Order T&B Petroleum
Only U$ 25.00
CLICK HERE TO ORDER
Check the latest edition
Apr | 2017 | N° 38

Login
Hello
Guest
! Welcome to our site.
Marginal Fields
4th Round of mature accumulations raises almost $ 8 million in signing bonus
05/11/2017 | 13h50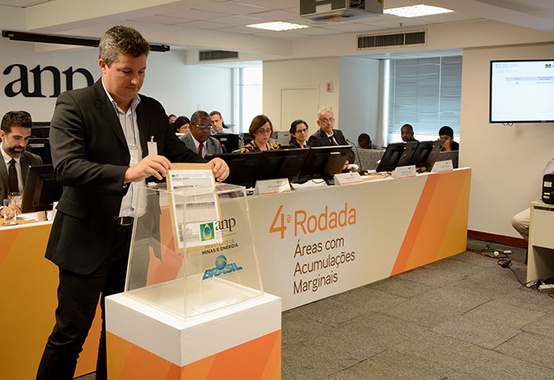 Divulgation ANP
The 4th Bid Round in areas with mature accumulations raised R $ 7,977,983.46 in subscription bonus, with an average premium of 1991.52%, the highest ever recorded in auctions of mature accumulation areas. In addition to the bonus, investments of R $ 9,100,000.00 are forecasted in the auctioned areas. The auction took place this Thursday (11/05), in Rio de Janeiro.
The tender offered nine inactive areas with mature accumulations, of which eight were acquired by the companies. In total, an area of 92.89 km² was completed. Eight companies made offers, with six winners. The largest signing bonus was R $ 5,710,000.00, offered by the company Newo for the Itaparica area, in the Recôncavo Basin. The highest premium was 8,050.04% in the same area. There was no demand for local content because in these areas it is already naturally high, getting around 90%.
Inactive areas with mature accumulations cover the concession area with known discoveries of oil and / or natural gas where there was no production or production was interrupted due to lack of economic interest.
The areas were selected in mature basins, with the objective of increasing the knowledge of the sedimentary basins and offering opportunities to small and medium enterprises, allowing the continuity of these activities in the regions where they play an important socioeconomic role.
Font: T&B Petroleum/ANP Press Office
Your E-mail:
Friend's Name:
Friend's E-mail:
Comment:
Send
Your Name: