Order T&B Petroleum
Only U$ 25.00
CLICK HERE TO ORDER
Check the latest edition
Apr | 2017 | N° 38

Login
Hello
Guest
! Welcome to our site.
LPG
Appoval of new pricing policy for household gas (LPG-P13)
06/07/2017 | 16h51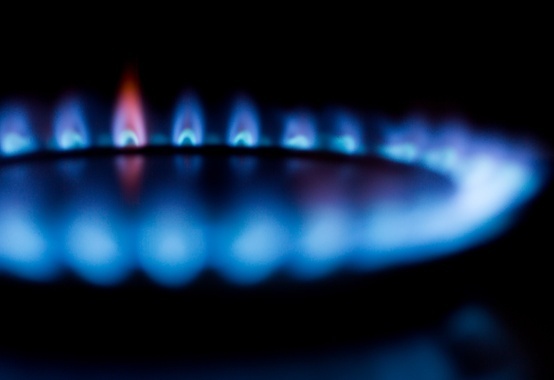 Divulgation
Petrobras informs that its Executive Board has approved a new pricing policy for commercialization of Liquefied Petroleum Gas to distributors sold in cylinders of up to 13 kg for residential use (LPG-P13).
The new model was defined based on Resolution 4/2005 of the National Energy Policy Council (CNPE), which "recognizes the marketing, by either producer or importer, of liquefied petroleum gas (LPG) intended solely for domestic use in transportable cylinders of up to 13 kg in capacity, at differentiated, lower prices than those charged for other uses or packed in containers with other capacities, as being of interest to the national energy policy."
Thus, the pricing policy for LPG-P13 won't have international price parity as reference, and is in line with the parameters in the 2017/2021 Strategic Planning.
The final price to distributors will be composed by the monthly average of butane and propane prices on the European market ("Butane NWE CIF ARA" and "Propane NWE CIF ARA") converted into Brazilian Reais at the daily average sale prices of the U.S. dollar, as reported by the Central Bank of Brazil, plus a 5% margin.
The price adjustments shall come into force from the 5th day of each month. The exception will be this June, when price adjustment occurs on sales to distributors held from the 8th.
The application of new pricing formula for LPG-P13 will represent an average 6.7% increase at refineries in the product this month. The final price to consumers may or may not reflect the adjustment made at refineries. This will depend on transfers made by other members of the fuels supply chain, especially distributors and resellers, as Brazilian law guarantees freedom of prices in the fuels and oil products' market.
In the composition of consumer prices, Petrobras accounts for about 25% of the final value, 20% are taxes, and the remainder of the price consists of distribution and resale (55%). The adjustment announced was applied to the prices charged by Petrobras, before taxes. If fully relayed to consumer prices, the company estimates that the LPG-P13 cylinder can increase 2.2% on average, or R$1.25/cylinder, if distribution and resale margins and tax rates are maintained.
The last adjustment to LPG-P13 prices applied by Petrobras occurred on 3/21/2017.
The policy announced today does not apply to LPG intended for industrial/commercial use.
The chart below displays the estimated composition of GLP-P13 prices to final consumers.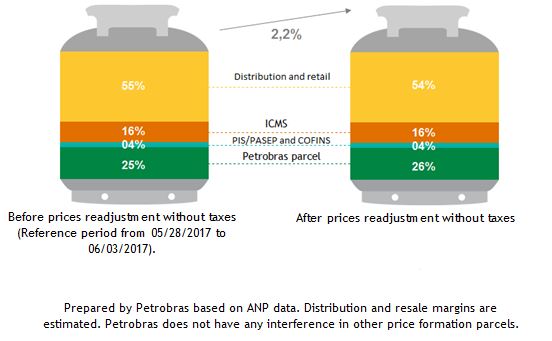 Font: Petrobras Agency
Your E-mail:
Friend's Name:
Friend's E-mail:
Comment:
Send
Your Name: