Order T&B Petroleum
Only U$ 25.00
CLICK HERE TO ORDER
Check the latest edition
Apr | 2017 | N° 38

Login
Hello
Guest
! Welcome to our site.
New Round Bidding
Approval of the 4th Round of Bids in the Pre-Salt (06/07/2018) and the 15th Round of Concessions (03/29/2018)
11/10/2017 | 19h03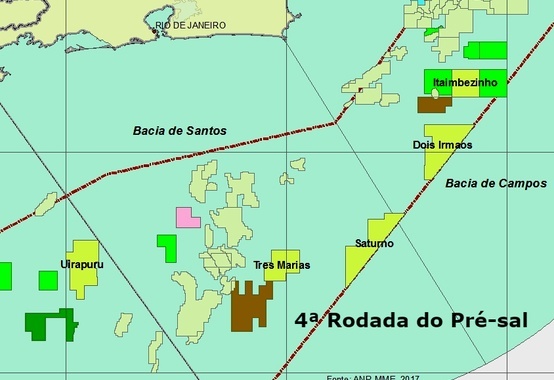 Divulgation MME
The National Energy Policy Council (CNPE) approved the holding, on March 29, 2018, of the 15th Round of Bids for Exploratory Blocks, under the concession regime, and the 4th Round of Bids, under the system of production sharing in 7 June 2018. The Board also approved the anticipation for March 2018 of the blend of 10% biodiesel and diesel (B10). The second extraordinary meeting of the Council was held on Thursday (09/11).
In the 4th Round of Production Sharing, the blocks named Três Marias, Dois Irmãos, Uirapuru, Saturno and Itaimbezinho will be offered, located in the Campos and Santos basins, within the Pre-salt Polygon. The technical and economic parameters of these areas were also deliberated.
According to the legislation in force, Petrobras should express its interest in acting as operator within 30 days after the publication of the CNPE resolution containing the technical and economic parameters of the areas to be offered in the 4th round of production sharing.
In the 15th Round of Bidding will be offered 70 blocks, 49 in the maritime basins of Ceará, Potiguar, Sergipe-Alagoas, Campos and Santos, including two blocks adjacent to Saturn. In addition, 21 are being offered in the terrestrial basins of Paraná and Parnaíba.
The supply of blocks located in the Foz do Amazonas Basin was postponed to 2019, in order to allow the completion of the ongoing environmental licensing process for the blocks awarded in the 11th Round. The blocks in the Pernambuco-Paraíba Basin also were to be offered in 2019 when more technical data will be available.
The Council also approved the increase of the blend of biodiesel to diesel oil marketed throughout the national territory from 8% to 10%, starting March 1, 2018, anticipating in one year the maximum term determined by Law No. 13,263 / 16 .
Local content
For ground blocks the minimum percentage of mandatory local local content shall be 50% for the exploration phase and 50% for the development stage. For blocks in the sea, the minimum percentage of global mandatory local content will be 18% for the exploration phase. For the macro-groups of the development stage the percentages will be: 25% for well construction; 40% for the Collection and Drainage System and 25% for the Stationary Production Unit.
The rules were proposed by the Steering Committee of the Program to Encourage Productive Chain Competitiveness, Development and Improvement of Suppliers of the Oil and Natural Gas Sector (Pedefor).
Font: T&B Petroleum/ MME Press Office
Your E-mail:
Friend's Name:
Friend's E-mail:
Comment:
Send
Your Name: