Order T&B Petroleum
Only U$ 25.00
CLICK HERE TO ORDER
Check the latest edition
Apr | 2017 | N° 38

Login
Hello
Guest
! Welcome to our site.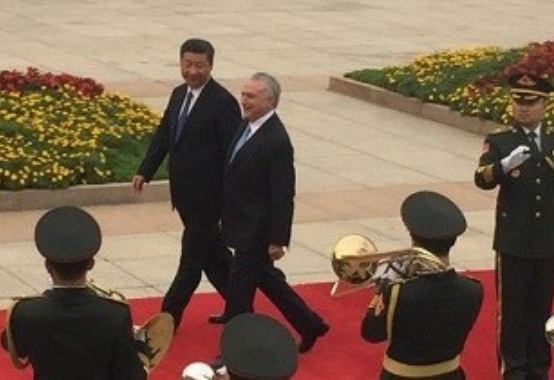 Divulgation Deco Bancillon/PR
President Michel Temer and the President of the People's Republic of China, Xi Jinping, attended the signing ceremony of 14 international acts this Friday (1). The list includes both bilateral acts between the two governments and private sector agreements, which should generate business and investments in Brazil.
The bilateral acts signed cover a number of different areas. One of the agreements will facilitate the issuance of tourist and business visas between the two countries, while another establishes a partnership for film co-productions between Brazil and China. A Memorandum of Understanding was also signed on e-commerce.
Acts signed by private sector entities include the Phase 2 licensing of the Belo Monte Power Plant and a Memorandum of Understanding between the Brazilian Football Confederation (CBF) and the Chinese Football Association (CFA) on cooperation in sport.
On financing, a framework agreement was signed between Brazil's Development Bank (BNDES) and the China Export & Credit Insurance Corporation (Sinosure) to provide guarantees to Chinese investors in Brazil, and a Financing Agreement was celebrated for the China Communication and Construction Company (CCCC) to begin construction of the Port of São Luís Private Use Terminal. In total, the private sector signed eight acts during the event.
Bilateral Relations
Before the signing of the acts, President Temer spoke with his Chinese counterpart and reaffirmed that Brazil and China have established relations that are both prosperous and affectionate. Temer thanked the invitation for the State Visit and stressed the importance of the partnership between the two countries.
Font: BrazilGovNews
Your E-mail:
Friend's Name:
Friend's E-mail:
Comment:
Send
Your Name: