Order T&B Petroleum
Only U$ 25.00
CLICK HERE TO ORDER
Check the latest edition
Apr | 2017 | N° 38

Login
Hello
Guest
! Welcome to our site.
Brazilian Government
Brazil is rediscovering its vocation for prosperity, says Temer
10/11/2016 | 11h07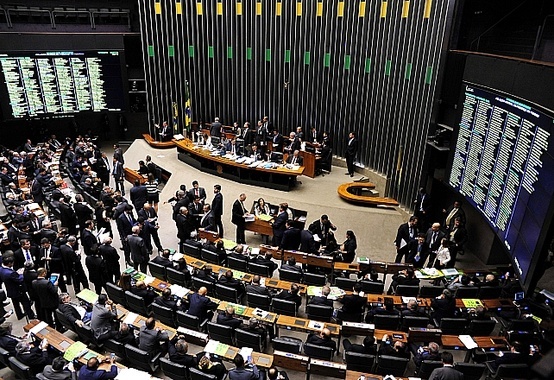 Câmara Notícias
On Monday night (10), the Chamber of Deputies passed PEC 241 in the first round of voting. The Proposed Constitutional Amendment (PEC) sets a cap for public spending. The final count was 366 votes in favour of the bill, 111 against it, and 2 abstentions. A minimum of 308 votes were needed to pass the bill.
The PEC will now be reviewed in a second round of discussions at the plenary of the Chamber of Deputies, where it will once again need at least 308 favourable votes before proceeding to the Senate.
In a press statement, the Presidency's Spokesperson, Alexandre Parola, highlighted the 'capital victory' at the Chamber. He stated that President Michel Temer 'reiterates his confidence that, by building consensus and engaging in democratic negotiations, Brazil is rediscovering its vocation for prosperity and social justice'.
Parola also highlighted the 'extraordinary attendance' at the Chamber just two days before a national holiday, which 'is a clear sign that the National Congress is committed to recovering fiscal balance and ensuring responsibility in the management of the public budget'.
The Presidency's spokesperson also pointed out that a balanced budget provides guarantees that future resources will be available for social policies against poverty, as well as for health and education. 'The amendment does not withdraw any of the rights enshrined in the Constitution. In fact, it protects spending in the areas of health and education', he stated.
On the guarantees provided by PEC 241 to the Brazilian economy, Parola pointed out in his statement that, once it comes into force, the amendment 'will protect the Brazilian economy from fiscal irresponsibility and put Brazil back on the balanced development track. Based on a principle that everyone understands, and that every family applies in their own homes, which establishes that we can only spend what we earn, it is important to highlight that seeking balance in our accounts is not an end in itself; it is rather a means to start growing again, reduce interest rates and create jobs'.
Parola concluded by reiterating President Michel Temer's satisfaction with the results of the voting on Monday, and extending his thanks to all parliamentarians who attended the first round of voting.
Font: BrazilGovNews
Your E-mail:
Friend's Name:
Friend's E-mail:
Comment:
Send
Your Name: