Order T&B Petroleum
Only U$ 25.00
CLICK HERE TO ORDER
Check the latest edition
Apr | 2017 | N° 38

Login
Hello
Guest
! Welcome to our site.
Mercorsur
Foreign Minister: Mercosur-EU agreement should be completed by year end
11/10/2017 | 19h32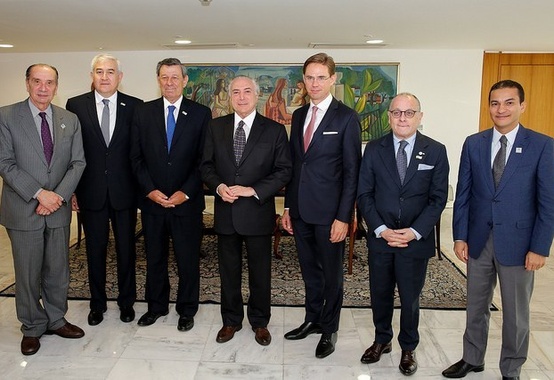 Divulgation BrazilGovNews
In another important step towards the conclusion of a trade agreement between Mercosur and the European Union, Brazil concluded another round of discussions with representatives of the European bloc. Speaking to the press, Foreign Minister Aloysio Nunes said the two blocks are close to making a trade agreement feasible by the end of this year.
"We have already had several rounds of negotiation to discuss trade and regulatory issues, and today we have concluded another one," Nunes said after a meeting with President Michel Temer, representatives of Mercosur and the Vice-President of the European Commission for Employment, Growth, Investment and Competitiveness, Jyrki Katainen.
According to the minister, the Brazilian government, which currently holds the pro-tempore presidency of Mercosur, presented a 'package of intents' with specific numbers, demonstrating the readiness of the Member Countries of the South American and European blocs to conclude the text.
"Based on the EU's reaction to this package – i.e. if it receives a positive response, as we hope it will – we can accelerate negotiations in such a way as to complete them by the end of this year," he said, adding that "Mercosur is finally moving".
For Nunes, the conclusion of the negotiations could be an important incentive for Mercosur to celebrate trade agreements with other economic blocs as well.
European side
In the view of the representative of the European Union, the agreement represents an opportunity to increase investor confidence and positively impact the environment for business between the nations involved.
"For the Member States of the European Union, the proposed association agreement is of the utmost importance," Katainen said. "The first immediate result will be that investor confidence will grow... and there will be greater expressions of interest," he said.
History
The celebration of a free trade agreement with the European Union is one of the priorities of the Brazilian government in the area of foreign trade. Negotiations between the two blocs for a free trade agreement began in 1999, were discontinued in 2004 and then relaunched in 2010.
By removing tariff barriers and applying fair rules to trade between countries, the agreement aims to further expand trade between the two blocs, with significant economic benefits for all countries involved.
Source: Portal Planalto, with information from the Brazilian Foreign Ministry (Itamaraty)
Font: BrazilGovNews
Your E-mail:
Friend's Name:
Friend's E-mail:
Comment:
Send
Your Name: