Order T&B Petroleum
Only U$ 25.00
CLICK HERE TO ORDER
Check the latest edition
Apr | 2017 | N° 38

Login
Hello
Guest
! Welcome to our site.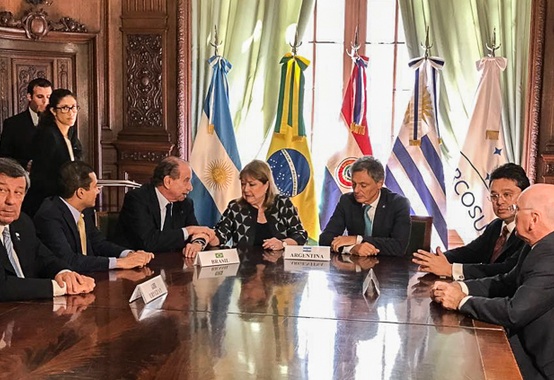 Divulgation MDIC
The Brazilian Minister of Industry, Trade and Services, Marcos Pereira, together with Foreign Minister Aloysio Nunes, have signed a Cooperation and Investment Facilitation Protocol (PCFI in the Portuguese acronym) aimed at improving trade exchanges between the Member States of MERCOSUR (Brazil, Argentina, Uruguay and Paraguay).
The protocol, the first of its kind, sets out a common agenda for further insertion of the bloc in the global market. The agreement is based on the Brazilian model of Cooperation and Investment Facilitation Agreements (ACFIs in the Portuguese acronym), which Brazil has already established with nine countries. The agreements are centred on facilitating capital flows, mitigating risks and preventing disputes between the signatory country.
"We celebrated bilateral ACFIs with four partners of the Pacific Alliance in the last two years - Mexico, Chile, Peru and Colombia. Now, with the agreement with Mercosur, Brazil further solidifies legal certainty for our investments in the region and makes our environment more attractive to new investments in the country, helping create jobs and income," said Minister Pereira.
The signing ceremony took place during the World Economic Forum for Latin America, in Buenos Aires. Next year, the same event will be held in São Paulo.
Agreements under discussion
Brazil is currently dedicated to several bilateral negotiations, including with Mexico, the European Union (together MERCOSUR partners) and the European Free Trade Association (EFTA). The country has also recently opened public consultations to start discussions for bilateral agreements with Japan and South Korea.
The National Congress has recently approved the Brazil-Peru Economic Expansion Agreement, the most-encompassing trade package celebrated by the Brazilian government in a bilateral agreement (the scope includes investments, services and government procurement). This was Brazil's first international trade agreement covering public procurement, a sector that handles 15% of global GDP.
The minister also pointed out that Brazil managed to negotiate the agreement with Peru and have it approved in Congress in a very short span of time, which goes to show how the executive and legislative branches are aligned in favour of the economic liberalisation agenda.
Font: BrazilGovNews
Your E-mail:
Friend's Name:
Friend's E-mail:
Comment:
Send
Your Name: