Order T&B Petroleum
Only U$ 25.00
CLICK HERE TO ORDER
Check the latest edition
Apr | 2017 | N° 38

Login
Hello
Guest
! Welcome to our site.
Business Rounds
At OTC Brasil 2019, Firjan, ONIP and Sebrae lead small businesses in the oil and gas sector.
10/21/2019 | 23h23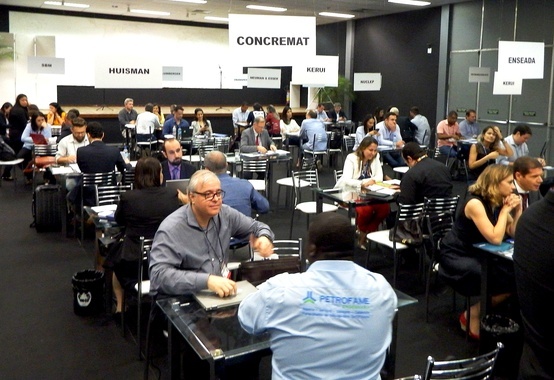 T&B Petroleum
Brazilian small businesses in the oil and gas sector will be present at OTC Brasil, one of the most important events of the oil and gas industry in Latin America. Small companies will participate in a session and business round, as well as the contents of the ONIP Innovation Arena, set up through a partnership between the National Petroleum Industry Organization (ONIP), Firjan and Sebrae.
Held every two years in Rio de Janeiro, since 2011, OTC Brasil has been held at the SulAmérica Convention Center, in Cidade Nova, downtown, from October 29 to 31. The conference is organized by the Offshore Technology Conference (OTC) and the Brazilian Institute of Oil, Gas and Biofuels (IBP) and supported by 13 scientific and engineering organizations working cooperatively to develop the technical program.
The conference will bring together some of the leading names of the global oil industry in various technical panels, as well as more than 180 industry suppliers attending the exhibition for which around 15,000 visitors are expected. The technical program will feature four plenary sessions, 16 panels and 37 technical sessions.
Among the main topics discussed are the challenges of oil and gas exploration and production in the ultra-deep waters of the Brazilian pre-salt, the prospects for the gas market with the opening of the segment and the digital transformation of the sector.
Check out the small business agenda at OTC Brasil
10/29 - Business Session, between 15h and 18h, with 80 suppliers and 5 anchors
10/30 - Business Round, between 3pm and 7pm, with 80 suppliers and 15 anchors
10/31 - ONIP and Sebrae Innovation Arena, from 2 pm to 7 pm, with 50 suppliers
Font: T&B Petroleum/Press Office Firjan
Your E-mail:
Friend's Name:
Friend's E-mail:
Comment:
Send
Your Name: