Order T&B Petroleum
Only U$ 25.00
CLICK HERE TO ORDER
Check the latest edition
Apr | 2017 | N° 38

Login
Hello
Guest
! Welcome to our site.
OTC Houston 2019
At OTC Houston 2019, Brazilian companies talk about the opportunities for the oil and gas market in Brazil
05/08/2019 | 14h54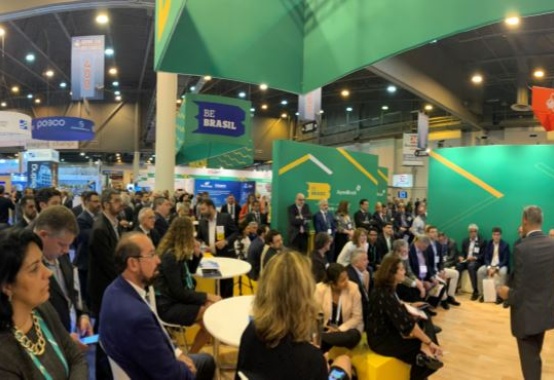 Presentation of Total in the ONIP Arena.
Considered to be the busiest of the event, the second day of OTC surprised, especially due to the public interest in the lectures presented at the National Petroleum Industry Organization (ONIP) Arena in the Brazilian Pavilion.
The morning panel, with BHGE, Equinor and Subsea7, was busy. The President of BHGE in Brazil, Alejandro Duran opened the session presenting the company's vision of the opportunities of Brazil.
"There are challenges to increase the recovery factor in the Campos Basin, but the qualification of projects in this region is a win-win reality for those who want to invest," he said.
Equinor's Vice-President of Supply Chain, Mauro Andrade, presented the company's figures and highlighted the importance of making regulatory improvements in the gas market to make projects viable. Check out the full presentation on the EPBR.
To close the morning of meetings, Subsea 7's Commercial and Marketing Vice President, Paulo Marches, spoke about subsea investments, an important part of oil and gas production.
The focus in Brazil remained at the lunch-talk with Shell, who also talked about the Mexican market, Brazil's competitor in exploration and production.
In the afternoon, the ONIP Arena featured the IBP presentation on the calendar of events in the country, as well as lectures by Total, PPSA, API, Siemens and Petrobras.
Eduardo Gerk, president of Pre-Sal Petróleo SA - PPSA, emphasized oil production projections.
"PPSA works closely with the producer consortium to maximize production output. In 2028, we estimate that only Brazilian pre-salt production will be 2 million barrels a day, "he said.
Throughout the fair, Firjan carries out the publication of Firjan PETRÓLEO magazine, in addition to the capture of technical content and articulation with the main stakeholders of the market.
On the third day, ONIP Arena will have a special panel with the Secretary of Petroleum, Natural Gas and Biofuels of the Ministry of Mines and Energy, Márcio Félix, on the new gas market in Brazil. In addition, BP Energy do Brasil and SEBRAE will present Brazil's vision of opportunities.
Font: T&B Petroleum/Press Office
Your E-mail:
Friend's Name:
Friend's E-mail:
Comment:
Send
Your Name: