Order T&B Petroleum
Only U$ 25.00
CLICK HERE TO ORDER
Check the latest edition
Apr | 2017 | N° 38

Login
Hello
Guest
! Welcome to our site.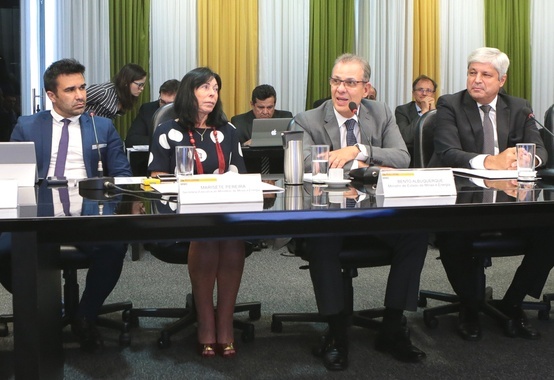 Divulgation MME
Bento Albuquerque of the MME closed its fourth week of work with the full secretariat team and detailed the main goals of his administration. In the morning of Wednesday (23) received the specialized press of the sector and, in the afternoon, the representatives of 22 associations of the electric sector. On Thursday (24) presented the agenda on geology and mining for representatives of 13 entities and concluded the day with representatives of 18 other entities in the oil, gas and biofuels sector.
To all, without exception, the minister pointed out the criteria that President Bolsonaro used to consider him as the holder of the portfolio - technical competence to hold office and lack of political, partisan or ideological ties, or any interest, other than the public good - criteria he also used to choose his team of secretaries
In the four meetings, Minister Bento Albuquerque highlighted the principles that will guide the "essential conditions for investments in the sector": governance, with respect to the competencies of the public policy maker (MME) and regulators (ANP, ANEEL and ANM); stability, with legal and regulatory certainty; and predictability to market players, "he added.
How do you want to achieve these goals? "Building a dialogue between Government, business and society in a responsible, pragmatic, harmonious and transparent manner". In practice, that's what Bento Albuquerque did in the last 48 hours. You have heard from each representative, from each of more than 50 associations, your opinions, complaints and suggestions to unlock your investments and improve your business environment.
The Minister expressed his happiness and enthusiasm to be part of a government in which there is an excellent relationship between the Ministries. "We live in a cooperative and synergistic environment; with everyone involved in collaborating with each other to address the measures that Brazil needs to solve its problems. " He emphasized that he intends to seek the "same spirit of collaboration in his relationship with the agents of the sector".
"It was an intensive course of 9 hours in 2 days. An exceptional opportunity created by everyone who attended our invitation, "Albuquerque said at the end of the last meeting. The Minister commissioned the team to define a Work Plan with a schedule to gather and discuss the topics addressed.
Font: T&B Petroleum/Press Office MME
Your E-mail:
Friend's Name:
Friend's E-mail:
Comment:
Send
Your Name: