Order T&B Petroleum
Only U$ 25.00
CLICK HERE TO ORDER
Check the latest edition
Dec | 2020 | N° 39

Login
Hello
Guest
! Welcome to our site.
Pre-Salt
By 2030, Búzios (BS) field will have 12 FPSOs installed producing 2 million barrels/day of oil
11/19/2020 | 11h45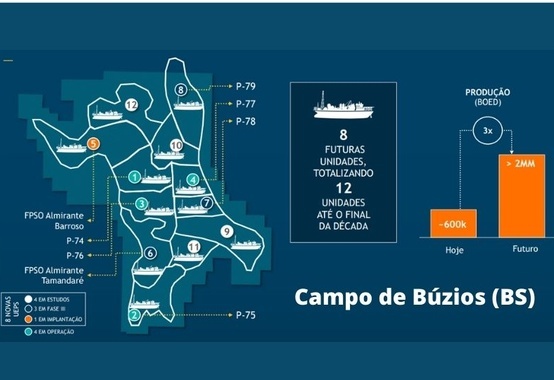 Petrobras Agency
With 27% of Petrobras' oil production, the Búzios field should reach the end of the decade with daily production above 2 million barrels of oil per day. Until then, 12 production units will be operating in the field, with the inclusion in the coming years of eight new FPSOs in the current framework of 4 units already in operation (P-74, P-75, P-76 and P-77). The information was provided by Petrobras executive manager Marcio Kahn, who participated, last Tuesday (11/17), in the 3rd Pre-Salt Petroleum Technical Forum, promoted by PPSA. "Búzios is a field of great value and low cost", defined Marcio, at the online event, which brought together professionals from the oil and gas sector to discuss the scenario of the next ten years in the Pre-Salt Polygon. Located in the Santos Basin, the Búzios field currently produces around 600 thousand barrels per day.
According to the executive, the P-78 and P-79 platforms, scheduled to start operations in Búzios in 2025, represent the company's new generation of high-capacity FPSOs, incorporating the lessons learned from the FPSOs already installed in the pre-salt, including contracting and construction aspects. Together, the two new units will add a capacity of 360,000 barrels per day to the field's production.
Also present at the event, Libra's executive manager, Mariana Cavassin, presented the HISEP Submarino technology, which is expected to start operating in the Mero 3 field in 2024, and is currently in the testing phase. The project intends to accelerate the production of the field and increase the recovery factor, through the separation and underwater reinjection of the gas with high CO2 content produced together with the oil. The executive also highlighted the contribution of technology to mitigate impacts related to carbon emissions, since CO2 is reinjected into the reservoir from the seabed.
The executive defended the extension of the production sharing contract, a regulatory model valid for the Libra field, which provides for the return of the asset in a maximum of 35 years. According to Mariana, the possibility of extending the term, as in the concession regime, would reduce uncertainties for the development of production and increase the attractiveness of the sector. "The idea is for a Bill to extend the performance of this model, which increases the continuity of investments and reduces the decommissioning processes. The result is a win for everyone: Petrobras, partners and society ", he said. The Libra Consortium was formed by Petrobras (operator, with 40%), Total (20%), Shell Brasil (20%), CNPC (10%) and CNOOC Limited (10%), in the first pre-salt auction in sharing scheme, in October 2013, with PPSA as the contract manager.
Font: T&B Petroleum/Petrobras Agency
Your E-mail:
Friend's Name:
Friend's E-mail:
Comment:
Send
Your Name: