Order T&B Petroleum
Only U$ 25.00
CLICK HERE TO ORDER
Check the latest edition
Apr | 2017 | N° 38

Login
Hello
Guest
! Welcome to our site.
OTC 2018
During an event in Houston, Petrobras presents the new perspectives for the Campos Basin
05/03/2018 | 16h56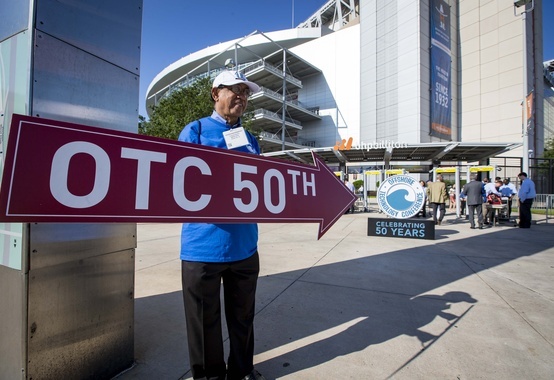 Rodney White/OTC
At the world's largest offshore production technology fair, which marks its 50th anniversary in Houston, TX, Petrobras highlighted the 41st year of exploration and production activities in the Campos Basin, where our pioneering deep waters.
At the technical session "Campos Basin: from shallow water to ultra-deep waters and complex reservoirs: 40 years moving the limits of technology," company technicians talked about the longevity of this basin and the prospects for oil production. They demonstrated that we continued investing in the Campos Basin, with ten exploratory blocks acquired in the region in the recent rounds 14 and 15 of the ANP auctions. The panel took place on Tuesday (01/05).
Deepwater Leadership
At the opening panel of the Conference, on April 30, at 9:30 am, Solange Guedes, director of Exploration and Production, presented the technological improvement trajectory of the maritime production from the 70's until the gradual conquest of leadership in this modality.
The next day (01/05), at 12:15 pm, Solange led the OTC lunch-talk spoke about the current context of the industry, highlighting the challenge of producing with the barrel of oil at low prices.
Today (03/05), the director of Development of Technology and Production, Hugo Repsold, will participate, along with Brazilian governmental authorities and presidents of other operators, the Brazil - Texas Chamber of Commerce forum (Bratecc), which will take place in parallel to OTC, and will discuss the future of the oil and gas sector in Brazil. Hugo also served as moderator at the OTC luncheon, with industry executives discussing investments in deepwater production activities in Brazil.
Other Petrobras representatives will participate in technical discussions during the OTC, while our offshore activities in the Santos Basin and the Gulf of Mexico will also be highlighted.
Font: Petrobras Agency/T&B Petroleum
Your E-mail:
Friend's Name:
Friend's E-mail:
Comment:
Send
Your Name: