Order T&B Petroleum
Only U$ 25.00
CLICK HERE TO ORDER
Check the latest edition
Apr | 2017 | N° 38

Login
Hello
Guest
! Welcome to our site.
Pre-Salt
EPCI contract with TechnipFMC for the Mero field submarine system at BS is signed by Petrobras
02/11/2019 | 17h30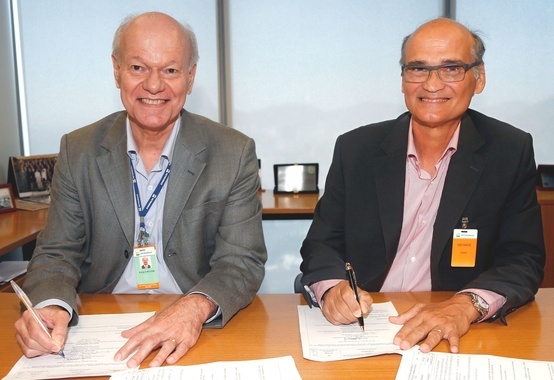 Petrobras Agency - Paulo Rovina of Petrobras and Nelson Leite, ...
TechnipFMC signed a contract with EPCI (Engineering, Procurement, Construction and Installation) for the installation of the Mero 1 subsea system in the pre-salt of the Santos Basin. The contract with TechnipFMC provides for the supply and installation of the rigid pipelines (risers and flowlines) for production and for the injection of water and gas, which will connect the wells to FPSO Guanabara, the first Mero field production development unit. The company will also be responsible for the installation, at 2,100 meters deep, of the submarine manifolds of control, umbilicals and flexible ducts. The interconnection will begin in the first quarter of 2021.
Libra general manager Paulo Rovina points out that an important part of the contract will be the installation service, which requires large and expensive vessels to launch rigid pipes, the so-called Pipe Laying Vessels (PLVs). Each day of their use represents a significant increase in expenses. "There will be connected 13 wells, six producers and seven water and gas injectors (WAG). It is very important to have a robust planning for the application of these resources in the project, "explains Rovina. The contract provides that Petrobras will periodically report a window of time for the start of the facility, which is reduced (from 180 to seven days) according to the progress of the project, minimizing the uncertainties of the term of service for the supplier. "We left it very clear how we are going to signal each of those dates," says the general manager.
For Mero 1, more than 100km of rigid pipelines will be installed, with approximately 49km of production and 55km of injection. "It is a great scope of work in which we will measure services quite objectively, taking into account well-defined contractual frameworks and facilitating verification and recognition of costs by the sharing contract manager, PPSA," says Rovina, adding that the model contract may be replicated for subsequent projects of production-sharing contracts.
The first Mero 1 oil is scheduled for the first half of 2021. The Guanabara FPSO will have the capacity to produce up to 180,000 barrels of oil per day.
Font: T&B Petroleum/Petrobras Agency
Your E-mail:
Friend's Name:
Friend's E-mail:
Comment:
Send
Your Name: