Order T&B Petroleum
Only U$ 25.00
CLICK HERE TO ORDER
Check the latest edition
Apr | 2017 | N° 38

Login
Hello
Guest
! Welcome to our site.
Partnership
Fapesp and IBM select partners for research center on artificial intelligence
03/15/2019 | 21h40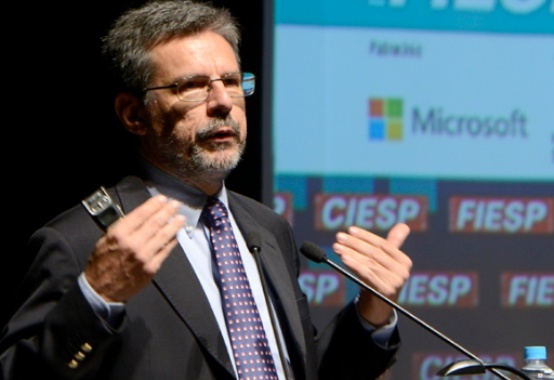 Carlos Henrique de Brito Cruz, scientific director of FAPESP
On March 12, FAPESP and IBM held a call for proposals event to mark the creation of the Research Center for Artificial Intelligence (IA) in the Fundação auditorium.
The objective of the new center, supported by FAPESP under the Engineering Research Centers (CPE) program, will be to develop disruptive research, with the potential to promote significant scientific advances in the field and with applications in strategic industrial sectors. For this, it will have financing of US $ 1 million per year, of which US $ 500 thousand will be contributed by FAPESP and the same amount by IBM, for a period of up to 10 years.
"We expect to receive proposals aimed at the development of advanced research that is globally competitive and that contemplates the formation of human resources in artificial intelligence. There is a great demand for researchers in this area both in Brazil and elsewhere in the world, "said Carlos Henrique de Brito Cruz (photo), scientific director of FAPESP, during the event.
Proposals may be submitted by April 15, 2019, by groups of researchers linked to a university or research institution based in the State of São Paulo and should have a basic and an applied component.
The research program of the selected center should include basic research to create internationally competitive knowledge, considering the possibility of applications in sectors such as natural resources (oil and gas, mining), agribusiness (including genomics and biotechnology), environment, financial sector and health. The center will also be able to develop studies that explore the socioeconomic implications of artificial intelligence in these segments.
"Proposals should not necessarily cover all these areas. We want to receive focused research programs, "said Luiz Nunes de Oliveira, deputy coordinator of the scientific directorate of FAPESP for Special Programs and Collaborations in Research.
Some of the focus of the proposals should be the development of advanced algorithms to expand the capabilities of machine learning and deep learning and new applications for professional use of artificial intelligence in industrial sectors.
The topics of interest include the creation of systems with a higher level of reasoning, the acceleration of the availability of tools that operate in Portuguese language and the exploration of the area to provide economic and social benefits for a greater number of people, countries and companies.
"We want project proposals aimed at developing techniques that allow us to expand and advance the frontier of knowledge in artificial intelligence, rather than the application of techniques already mastered in problems that have not been used before," said Ulisses Mello, director of IBM Research Brazil.
The center will be the first Latin American institution to join the IBM AI Horizons Network, a network launched in 2016 by the company to promote integration and collaboration with leading universities and research institutions worldwide to accelerate the application of artificial intelligence in some areas .
One of the institutions that are part of the network is the Massachusetts Institute of Technology (MIT) in the United States. "The network has made it possible to develop a very interesting work, and even in partnership with other companies," Mello said.
According to him, more than 10 companies in Brazil have already expressed interest in also making partnerships in research with the new center. "It will be interesting to discuss partnering models with other companies to provide data, people and resources to expand research," he said.
Industrial applications
According to Mello, the development of artificial intelligence is among IBM's four strategic areas of research. The other three are the preparation of bases for the future of computing, the definition and optimization of blockchains and the transformation of industrial sectors through science and artificial intelligence.
To continue development in the field and to expand its industrial application, it will be necessary to leverage advances in the perception, reasoning and understanding of computational devices to help them deal with complex human-like tasks. In addition, develop new hardware, software and algorithms that make artificial intelligence faster, easier and more capable of attacking larger and more complex problems.
According to Mello, in parallel with the advancement of artificial intelligence, it will be necessary to ensure that the algorithms are not biased and do not discriminate people on the basis of race, sex or social class in decision making, such as credit granting or insurance proposals. "We have launched a database with more than 1 million faces to avoid training algorithms that can induce bias," said Mello.
In Brazil, the focus of research carried out in the company's laboratories, located in São Paulo and Rio de Janeiro, is precisely the topics of interest covered in the call for proposals for the creation of the new center with FAPESP.
In the oil and gas sector, IBM has partnered with Shell, Repsol and Galp to use artificial intelligence techniques to quickly analyze 3D seismic data sets to assess geological characteristics of potential oil wells.
In the agricultural sector, the company's researchers have developed data analysis systems that will allow farmers to assess factors such as humidity, temperature and risks of pests and diseases in their crops, make time and production forecasts and administer the application of fertilizers.
"Today, with precision spraying it is possible to reduce the amount of fertilizers in a crop by up to 90%," said Mello.
In health care, IBM has used advanced artificial intelligence tools to quickly analyze medical imaging and more accurately diagnose diseases.
"A simple magnetic resonance imaging test produces about 10,000 images. Our goal is to develop a system that is able to close the diagnosis of a patient based on the analysis of the 20 most important images in this type of examination, "said Rogério de Paula, manager in the area of Artificial Intelligence Technologies for Decision Making in the Industry , in the IBM research lab in Brazil.
And in the area of conversational intelligence - of conversation with computers and intelligent systems -, the researchers of the company in Brazil have been dedicated to improving computer programs that try to simulate a human being in conversation with people (chatbots).
"The chatbots available today are either QA-based or passively obeying orders, without really knowing how to talk," said Claudio Pinhanez, manager of conversational intelligence at IBM Brazil's research lab.
"Our focus on research is what we call second-generation conversational systems, that is, chatbots that are really capable of talking and having a richer language," he said.
One of the researchers' goals is to develop a technology that enables humans to talk to multiple bots at the same time and, conversely, they can also talk to more people simultaneously.
"The idea is that when planning a trip, a family can talk simultaneously with a bot of an airline, another of a travel agency and another of the tourist service of the city where he intends to go, for example, to decide about fate, "Pinhanez said.
Research on artificial intelligence in São Paulo
Pinhanez said he was one of the "results" of FAPESP's support for research projects in artificial intelligence in São Paulo in the last three decades. In 1990, the Foundation awarded a scholarship for him to conduct a research internship in Japan and develop a research project on artificial intelligence. At the time, he was a professor at the University of São Paulo (USP).
"At that time, no one believed in artificial intelligence in my department. Today we are talking about the creation of a center dedicated to this area, "he said.
Since 1990, the first project supported by FAPESP addresses one of the themes related to artificial intelligence, artificial neural networks - computational models inspired by the central nervous system. And the pioneering project of partnership in research in the area between university and company financed by FAPESP was initiated in 1996 by researchers of the Polytechnic School of USP in conjunction with Petrobras.
"The base built through projects and initiatives based on the SP researchers initiative now allows us to dare more.The number of artificial intelligence projects supported by FAPESP has increased in different forms of support, such as the Program for Innovative Research in Small Companies (PIPE), "said Brito Cruz.
"In the last two years, FAPESP invested R $ 30 million per year in artificial intelligence research. It is not a low investment, but it can be higher. The agreement with IBM to create a research center in the area will help us to encourage long-term projects, "said FAPESP's scientific director.
The call for proposals for the center can be accessed at www.fapesp.br/12504. Proposals will be received by April 15.
Font: T&B Petroleum/Press Office
Your E-mail:
Friend's Name:
Friend's E-mail:
Comment:
Send
Your Name: