Order T&B Petroleum
Only U$ 25.00
CLICK HERE TO ORDER
Check the latest edition
Apr | 2017 | N° 38

Login
Hello
Guest
! Welcome to our site.
15th ANP Round
First contracts of the 15th Round of Bids are signed during an event in Rio
09/12/2018 | 18h37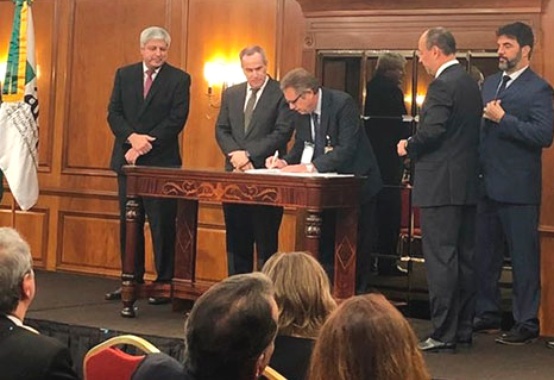 Divulgation
The ANP held on Tuesday (11/9), in Rio de Janeiro, the first stage of signing contracts related to the 15th Round of Bids, held in March this year. Present at the ceremony were directors of the ANP and the executive secretary of the Ministry of Mines and Energy (MME), Márcio Félix, as well as representatives of the companies.
Altogether, ten contracts, of five companies, were signed: Equinor Brasil Energia Ltda .; ExxonMobil Exploração Brasil Ltda .; Petróleo Brasileiro S.A; QPI Brasil Petróleo Ltda .; and Shell Brasil Petróleo Ltda. These companies requested advance notice of the signing of the contracts, choosing to present the documentation and pay the subscription bonus in advance.
The announcement of the 15th Round provides for the delivery of the signature documents until September 28 and signature until November 30. The other contracts will be signed in November / 2018, as foreseen in the announcement.
With the anticipation, of the total of R $ 8.01 billion offered in the round, R $ 7.04 billion have already been collected.
In the 15th Round of Bids, in the concession model, 22 blocks were sold by 12 bidders.
See the blocks that were signed on 9/11:
Basin: Campos
Sector: SC-AP5
Block: C-M-657
Bidders (* operator): Petrobras (30%) *; Equinor Brazil (30%); ExxonMobil Brazil (40%)
Bonus (R$): 2,128,500,000.00
Basin: Campos
Sector: SC-AP5
Block: C-M-709
Bidders (* operator): Petrobras (40%) *; Equinor Brazil (20%); ExxonMobil Brazil (40%)
Bonus: 1,500,000,000.00
Basin: Campos
Sector: SC-AP5
Block: C-M-753
Bidders (* operator): ExxonMobil Brazil (40%) *; Petrobras (30%); QPI Brazil (30%)
Bonus (R$): 330,000,000.00
Basin: Campos
Sector: SC-AP5
Block : C-M-789
Bidders (* operator): ExxonMobil Brazil (40%) *; Petrobras (30%); QPI Brazil (30%)
Bonus (R$): 2,824,800,000.00
Basin: Potiguar
Sector: SPOT-AP1
Block: POT-M-762
Bidders (* operator): Petrobras (100%) *
Bonus (R$): 5,134,684.33
Basin: Potiguar
Sector: SPOT-AP2
Block: POT-M-859
Bidders (* operator): Petrobras (60%) *; Shell Brazil (40%)
Bonus (R$): 13,494,981.55
Basin: Potiguar
Sector: SPOT-AP2
Block: POT-M-948
Bidders (* operator): Shell Brazil (100%) *
Bonus (R$): 1,963,358.55
Basin: Potiguar
Sector: SPOT-AP2
Block: POT-M-952
Bidders (* operator): Petrobras (60%) *; Shell Brazil (40%)
Bonus (R$): 20,051,365.75
Basin: Santos
Sector: SS-AUP1
Block: S-M-536
Bidders (* operator): ExxonMobil Brazil (64%) *; QPI Brazil (36%)
Bonus (R$): 165,000,000.00
Basin: Santos
Sector: SS-AUP1
Block: S-M-647
Bidders (* operator): ExxonMobil Brazil (64%) *; QPI Brazil (36%)
Bonus (R$): 49,500,000.00
Font: T&B Petroleum/ANP Press Office
Your E-mail:
Friend's Name:
Friend's E-mail:
Comment:
Send
Your Name: