Order T&B Petroleum
Only U$ 25.00
CLICK HERE TO ORDER
Check the latest edition
Apr | 2017 | N° 38

Login
Hello
Guest
! Welcome to our site.
Campos Basin
FPSO Campos dos Goytacazes goes to the Tartaruga Verde field in the Campos Basin
05/11/2018 | 11h27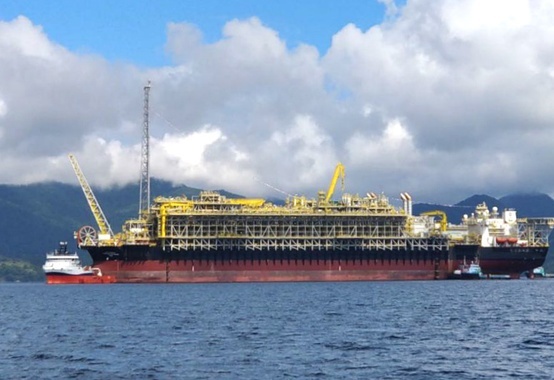 Petrobras Agency
Petrobras' second platform scheduled to start production in 2018, the FPSO Cidade de Campos dos Goytacazes continued on Monday (7/5) to the field of Tartaruga Verde, in the Campos Basin. Production is expected to begin in the coming months, following the interconnection of the first producer well. In addition to the P-74, which began production in April in the Búzios field, in the Santos Basin, and the Campos dos Goytacazes FPSO, the Business and Management Plan 2018-2022 foresees that another seven units will be put into operation in Brazil until 2019.
The floating oil and gas production, storage and transfer unit, chartered by Modec, will have the capacity to produce 150,000 barrels per day of oil and compress 5 million cubic meters per day of natural gas.
The hull conversion, as well as the integration of the modules manufactured in Asia, was made at the Cosco shipyard in the Chinese city of Dalian. The integration of the modules manufactured in Brazil and the final commissioning of the Unit were carried out at the Brasfels shipyard, in Angra dos Reis, Rio de Janeiro.
The Tartaruga Verde field is a reservoir located in the southern area of the Campos Basin, about 127 km from the city of Macaé in Rio de Janeiro, in a water depth of approximately 1,000 m and at a depth of 2,993 m. All field production will be processed by FPSO Cidade de Campos dos Goytacazes.
Technical data of the FPSO City of Campos dos Goytacazes
· Oil processing capacity: 150 thousand barrels / day;
· Capacity of treatment and compression of gas: 3.5 and 5 million m³ / day, respectively;
· Injection water treatment capacity: 200 thousand barrels / day;
· Storage capacity: 1.6 million barrels of oil;
· Deep water anchorage: 765m;
· Total length: 335m; Width: 58m; Height: 31m.
Font: Agência Brasil/T&B Petroleum
Your E-mail:
Friend's Name:
Friend's E-mail:
Comment:
Send
Your Name: