Order T&B Petroleum
Only U$ 25.00
CLICK HERE TO ORDER
Check the latest edition
Apr | 2017 | N° 38

Login
Hello
Guest
! Welcome to our site.
Petrobras
In the 4th ANP Bidding Round, Petrobras and partners are left with three blocks
06/08/2018 | 14h49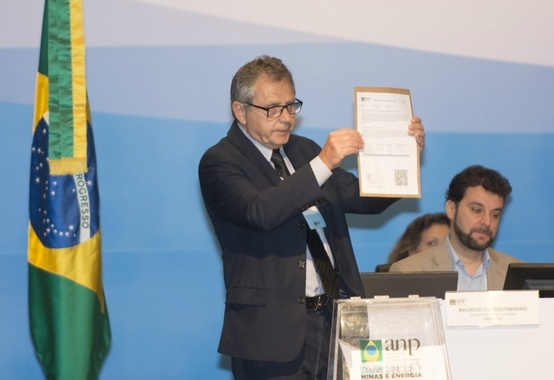 Petrobras Agency
Petrobras informs that it acquired, in partnership with other companies, three offshore blocks in the 4th Bidding Round under the Production Sharing Regime, held yesterday by the National Petroleum Agency (ANP), as the operator in all blocks.
Under the production sharing regime, the consortium transfers to the Government a percentage called "surplus in profit oil to the Federal Government", which applies on revenue minus production costs and royalties.
The surplus in profit oil to the Federal Government offered was the sole criterion adopted by ANP to define the winning bid, whereas the signature bonus value, the minimum exploratory program, and commitments of local content were set previously in the bidding terms.
The following table summarizes the blocks acquired in partnerships by Petrobras in the 4th Bidding Round under the Production Sharing Regime: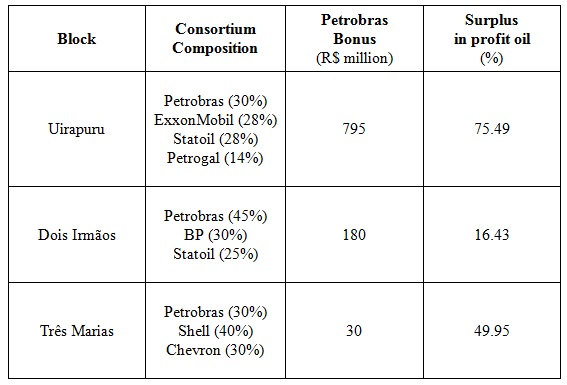 Petrobras exercised its pre-emption right in blocks Uirapuru and Três Marias, adhering to the winning consortium proposal.
The total value of the signature bonus to be paid by Petrobras, R$ 1.005 billion, represents 0.4% of the investment forecast in the 2018-2022 Business and Management Plan and will be reallocated within the currently approved budget.
As in the rounds held in 2017 and in the 15th Bidding Round under the Concession Regime, held in March 2018, Petrobras acted selectively in the auctions held today, in line with the foundations of its Strategic Plan, which establishes the sustainability of oil and gas production and continuous strengthening of the exploratory portfolio through the acquisition of new areas.
Furthermore, the operation in consortia with important companies is aligned with Petrobras' strategic goal to strengthen partnerships, sharing risks, combining technical and technological skills, and capturing synergies to leverage results while reflecting the importance of these areas in Brazil for world-class oil companies.
Font: T&B Petroleum/Petrobras Agency
Your E-mail:
Friend's Name:
Friend's E-mail:
Comment:
Send
Your Name: