Order T&B Petroleum
Only U$ 25.00
CLICK HERE TO ORDER
Check the latest edition
Feb | 2021 | N° 40

Login
Hello
Guest
! Welcome to our site.
Resumption
Industry registered an increase in production in September and is above the usual for the month
11/19/2020 | 13h09
Courtesy CNI
The Industrial Survey, a survey by the National Confederation of Industry (CNI), points to a further acceleration of industrial activity in September, with a significant increase in hiring. The production evolution index reached 59.1 points last month, well above the 50-point dividing line. The increase in production was also accompanied by more hires. The number of employees index reached 55.3 points. The idleness of the industrial park is falling and the entrepreneur's intention to invest has risen for the sixth consecutive month. 1,881 companies were interviewed, 734 small, 674 medium and 473 large, between 1st and 14th October.
Production Evolution Diffusion index (0 to 100 points)*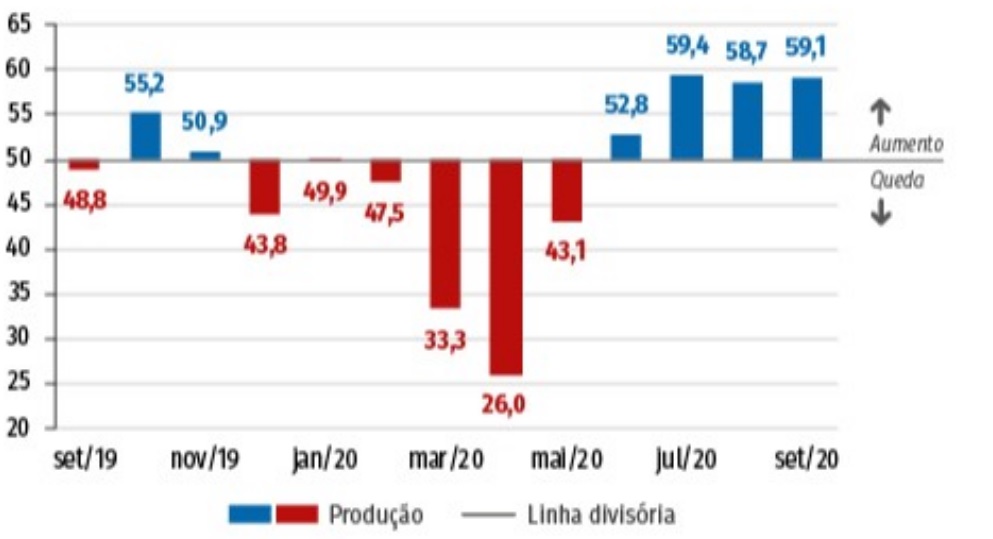 * Values above 50 indicate an increase in production compared to the previous month. Values below 50 points indicate a drop in production compared to the previous month. The farther from the 50 points, the greater and more widespread the variation.
"September's industrial activity proved to be a point outside the curve for the month. This month, we can clearly see the economic recovery process, the high demand and the need to replenish stocks, which remain low. The industry operated above the usual, using installed capacity above that registered in recent years ", evaluates the manager of Economic Analysis at CNI, Marcelo Azevedo.
All the survey indicators point to the economic recovery process of the industry. The index of evolution in the number of employees is the highest value in the monthly historical series, which started in January 2011, which indicates that the increase in hiring in September, in relation to August, was quite significant.
Although this data is important for the moment of recovery, it should be noted that the increases registered since June this year occur after strong falls observed between the months of March to May, which took employment to a very low level.
Font: T&B Petroleum/Agência CNI de Notícias
Your E-mail:
Friend's Name:
Friend's E-mail:
Comment:
Send
Your Name: