Order T&B Petroleum
Only U$ 25.00
CLICK HERE TO ORDER
Check the latest edition
Apr | 2017 | N° 38

Login
Hello
Guest
! Welcome to our site.
Tenure
José Firmo is new CEO of Porto do Açu Operations
09/10/2019 | 23h06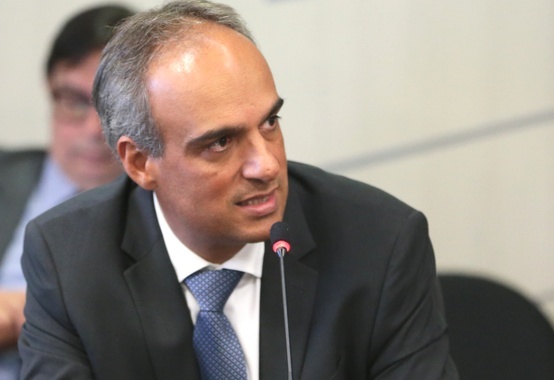 Divulgation
Prumo Logística announced today that José Firmo assumes, as of November 1st, as CEO of Porto do Açu Operations. The company, which is a subsidiary of Prumo, operates and manages Açu Port in São João da Barra (RJ). Until the end of October, Antonio Primo Ferreira, O&G Director of Porto do Açu Operations, remains interim CEO.
With extensive experience in the O&G sector, in recent years he has served at Seadrill, initially as President Brazil and, since early 2018, as Vice President for the Western Hemisphere. In addition, Firmo worked for more than 20 years at Schlumberger where he was in various positions, including responsible for the company's operations in Brazil and Latin America.
At Porto do Açu, José Firmo will contribute to the development of the complex and its consolidation as O&G Hub. "I am very motivated with this new challenge. I follow the development of Açu Port and know its differentials for the O&G industry. I am sure that several business possibilities will materialize in the coming years, "he said.
For Tadeu Fraga, CEO of Prumo Logística, the entry of Firmo in charge of Porto do Açu reinforces the importance of O&G for the complex. "Açu has a unique structure that is highly relevant to the O&G sector and will drive a new industrialization cycle in Brazil. And José Firmo's entry into the team reinforces our commitment to serve the industry with excellence. "
José Firmo has an MBA in Business Administration from the Rotterdam School of Management at Erasmus University (Netherlands). The executive has 25 years of experience in the oil and gas industry services area, with a solid international career.
About Prumo Logística
Prumo is a multi-business economic group responsible for the development of Açu Port, the largest port complex in Brazil. Through the six companies that make up the group - Açu Port, Ferroport, Açu Petróleo, GNA, Dome and BP Prumo - Prumo provides services in the mining, port logistics, energy and oil and gas segments. Prumo's main partners and customers include Port of Antwerp, BP, Siemens, Anglo American, Oiltanking, Shell, Petrobras, Galp, Equinor, TechnipFMC, NOV, Edison Chouest, GranIHC, InterMoor, Wärtsila and other global industry leaders. Açu Port also has strategic agreements with the Port of Houston, in the USA, and the Port of Guangzhou, in China.
Font: T&B Petroleum/Press Office
Your E-mail:
Friend's Name:
Friend's E-mail:
Comment:
Send
Your Name: