Order T&B Petroleum
Only U$ 25.00
CLICK HERE TO ORDER
Check the latest edition
Apr | 2017 | N° 38

Login
Hello
Guest
! Welcome to our site.
Natural Gas
Natural gas consumption in Brazil grows 4.7% in September, highlight in CNG with 15.1% in the comparison of 12 months
11/07/2019 | 20h22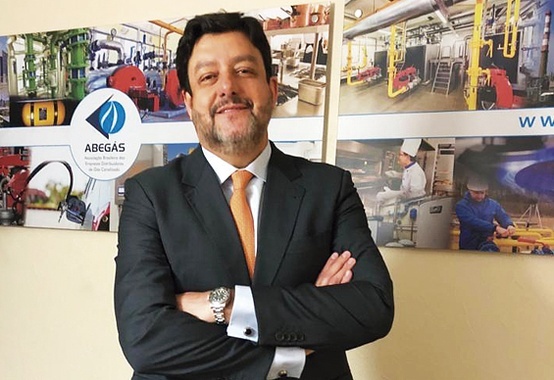 Augusto Salomon, Abegás
According to Abegás, the total consumption of natural gas in the country had an increase of 4.7% in September compared to August. Were consumed in September 74.09 million cubic meters / day compared to 70.79 million in August. Compared to September 2018, when consumption reached 79.22 million cubic meters / day, the fall is 6.5%. The numbers are part of a statistical survey made with dealers in all regions of the country.
In September, the industry grew 2.53% compared to August (from 27.68 to 28.38 million cubic meters / day) and down 4.08% compared to September 2019. Year-to-date , slight decrease (0.44%).
The highlight of the month is automotive consumption - an increase of 20.2% in September before August and 15.1% in the 12-month comparison, accumulating 4.9% expansion in 2019. "Growth in consumption of CNG happened in São Paulo, Bahia and Pernambuco, but was pulled mainly by Rio de Janeiro, which has a fleet of more than 1 million converted vehicles, "says Abegás CEO Augusto Salomon (photo).
According to Salomon, the major challenge for increasing consumption - especially industrial consumption - is for the New Gas Market to establish measures that will help to effect competition in supply. "An example of how the dominant agent still has market control is the joint public call made by seven Northeastern distributors. Between August 2018 and September 2019, distributors received 39 gas supply proposals. Even so, only Petrobras kept the supply and at higher prices than those prevailing ", explains Salomon.
According to Abegás CEO, it is necessary to accelerate the participation of other agents in the offer of the molecule and this will only be possible with full access to existing infrastructure. "There is no way to have a New Gas Market without new providers being able to access the flow routes, the processing units and the transport pipelines. These rules need to be clearer and more assertively so that they feel safe to really compete. "
Salomon also reinforces the need for the country to invest in infrastructure. "The natural gas industry is networked, so the more new consumers, the more the cost tends to fall for everyone. And that will only be possible by internalizing the network. Pre-salt gas has to be used in the country. Commodity exports, straight from the well, do not contribute to generating income and jobs, "says Abegás CEO.
In September, the number of natural gas consuming units surpassed the 3.6 million mark - number of meters in industries, businesses and homes and other points of consumption.
Consumption in September / 19 in all segments
Industrial - The segment recovered in September, with growth of 2.5% compared to August. Year-to-date, slight decrease of 0.4%.
Automotive - The segment with the highest increase in September. Vehicle Natural Gas (CNG) consumption increased by 20.2% compared to August and accumulated a high of 4.9% in 2019. CNG's higher yield per km driven compared to liquid fuels is the main attraction of the fuel.
Residential - Residential consumption increased 3.7% compared to August. Today more than 3.6 million homes use natural gas in the country.
Commercial - The segment continues to show good results in 2019. Year-to-date, the increase is 8.7%.
Electricity Generation - presented growth of 4.6% in September; however, in the year to date the retraction is 15.4%
Cogeneration - Following the industrial segment, presented high of 3.8% in September.
Regional Highlights: September / 2019 vs. September / 2018
• Midwest - Commercial segment growth of 17.9%
• Northeast - Residential segment up 8.8%
• North - Advance of 109.2% in the commercial segment
• Southeast - 21.3% growth in the automotive segment
• South - High of 9.8% in the commercial segment.
Font: Press Office/Press Office Abegás
Your E-mail:
Friend's Name:
Friend's E-mail:
Comment:
Send
Your Name: