Order T&B Petroleum
Only U$ 25.00
CLICK HERE TO ORDER
Check the latest edition
Apr | 2017 | N° 38

Login
Hello
Guest
! Welcome to our site.
Rio Oil & Gas 2018
Oil and Gas companies can cut costs with AEO certification
09/27/2018 | 10h53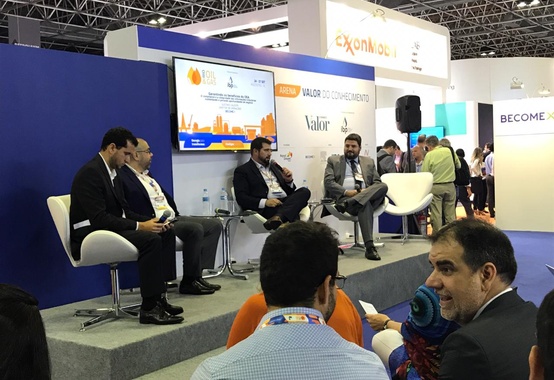 Gustavo Valente (at center), from Becomex
Oil and Gas companies can cut costs across their production chain by joining the Brazilian Authorized Economic Operator (AEO) Program. The Program is a business enabler, offering safeguards to companies that operate using Repetro-Sped and focusing on provisional products/equipment for prospection that are returned to the country of origin after a specific period of time. During the RIO Oil & Gas 2018 event, the theme was the highlight of the "Compliance - Main challenges facing the sector" workshop presented by Gustavo Valente, director of Operations at Becomex - an international operations and tax consultancy.
The Brazilian Authorized Economic Operator Program, better known as AEO, was devised by the World Customs Organization from Brussels and officially launched in Brazil in 2014, integrating the country in a worldwide convergence of customs operators to ensure greater security across the international logistics chain.
The Brazilian AEO Program certifies members of the logistics chain to verify their operations pose little risk, and assess physical cargo security and compliance with tax and customs reguations.
Companies that achieve AEO certification can import and export their cargo with priority treatment and enjoy reduced storage costs. "This additional flexibility is crucial for the sector, which represents around 30% to 40% of Brazilian export transactions", said Gustavo Valente.
The voluntary membership Program seeks to reduce bureaucracy and ensure swift customs clearance for companies that prove they are compliant with the security criteria tjhat apply to their logistics chain and with customs and tax regulations adopted by the Brazilian Federal Revenue Service.
"The decision to join the Brazilian AEO Program brings change to a company's culture. Stemming from the best practices inherent to the Program, the effects can leverage fiscal benefits and reduce exposure to the Revenue Service. In order to achieve this, the company must be prepared to not only 'have' the AEO, but to 'be' AEO", said Gustavo Valente.
About Becomex
BECOMEX is a company that specializes in integrated tax and international operations management. The company understands fiscal and customs governance processes, combining knowledge with technology. Relying on highly qualified experts and its own exclusive methodology, Becomex helps companies developy tax, accounting and customs approaches that are increasingly strategic and lucrative. With over 10 years' experience, Becomex has around 900 customers from various industries, such as the Votorantim Group, Tramontina, Ford, Renault, and many others. Becomex has over 300 employees available in six Brazilian states and the Federal District. www.becomex.com.br
Font: Press Release
Your E-mail:
Friend's Name:
Friend's E-mail:
Comment:
Send
Your Name: