Order T&B Petroleum
Only U$ 25.00
CLICK HERE TO ORDER
Check the latest edition
Apr | 2017 | N° 38

Login
Hello
Guest
! Welcome to our site.
Pre-Salt
Paulo Guedes defends more pre-salt resources for states and municipalities
03/15/2019 | 22h07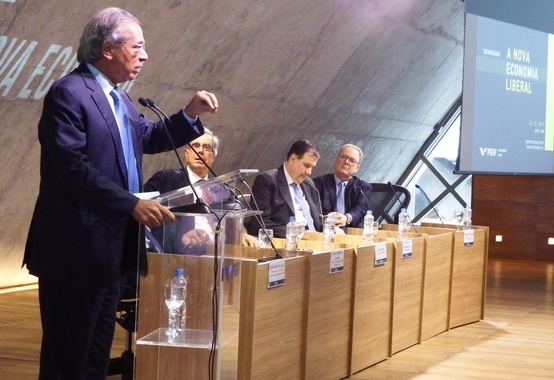 T&B Petroleum
At the end of the seminar The new liberal economy, in the Getulio Vargas Foundation, the Minister of Economy, Paulo Guedes (photo), said today (15) that he intends to redo the federative pact, to decentralize resources by sending more funds to states and municipalities and unlink revenues so that managers have more freedom to apply money. For him, oil resources stored in the pre-salt layer, estimated at between $ 500 billion and $ 1 trillion for the next 15 years, can be better distributed among federated entities.
"We want the inversion of this pyramid of resources, which is far from the people. Our idea is to take all the pre-salt, today 70% is with the Union and 30% with states and municipalities. My idea is 70% for states and municipalities and 30% for the federal government. If I want the decentralization of Powers and resources, I have to start saying that. We are going to make a smooth transition, without taking anything away from the Union. "
Simplification
In addition to the privatizations, Guedes said that another way to "slim down" the state is by not replacing personnel to retire. He said he intends to also make a tax reform to make a "brutal simplification" in the number of taxes, in the direction of the single federal tax.
"It should have a tax only, not declaratory, and also only a social expense, which is the basic income of citizenship. Then put it there, for every poor Brazilian who stayed behind, retired, crippled, give there R $ 1 thousand. Basic income of citizenship, "he said.
"We want to go in that direction, I know it's impossible to get there, but reducing taxes and contributions to eight is already going to be a big step," he added.
Social Security
In analyzing the process of pension reform, Guedes said that the proposal that is in the National Congress is a way to make the transition to the capitalization system, which he described as "a paradise."
"The breakdown regime broke even before the aging population. It's doomed, it's full of privileges in there. Let's take the privileges, in the political end will retire just like everyone else. I'm asking for $ 1 trillion now, to have the fiscal power to start making the transition to the capitalization system, "he said.
The minister said that the appeal will be necessary to compensate the system in the transition period. "The young man who starts work will choose whether to enter the old regime or the new regime. If he gets into the new one, he's going to bleed the old one a little, so he needs that $ 1 trillion. "
Font: T&B Petroleum/Agência Brasil
Your E-mail:
Friend's Name:
Friend's E-mail:
Comment:
Send
Your Name: