Order T&B Petroleum
Only U$ 25.00
CLICK HERE TO ORDER
Check the latest edition
Apr | 2017 | N° 38

Login
Hello
Guest
! Welcome to our site.
OTC Houston 2019
Petrobras Engineer Receives International Award for Pioneer Use of FPSO-Type Platforms
05/06/2019 | 15h04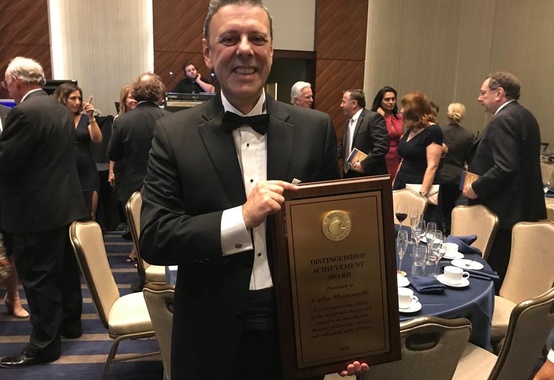 OTC Award: Carlos Mastrangelo
Petrobras' retired engineer Carlos Mastrangelo received on Sunday, 5/5, one of the most important international awards in the oil and gas industry, the Distinguished Achievement Award for Individuals from the Offshore Technology Conference (OTC), the traditional and largest event in the world of industry exploration and production of offshore oil.The award recognizes Mastrangelo's contribution to the worldwide regulation and dissemination of the use of FPSO (floating production, storage and offloading) platforms by the oil industry during his time at Petrobras. The award was presented during the OTC Golden Anniversary gala dinner, which preceded the 50th edition of the conference, which begins today, 6/5, in Houston.
In the early 1990s, while still working on the platforms of the Campos Basin, Mastrangelo realized that large vessels had great potential for acting as oil rigs, but this use was limited to the current legislation.
He led a group that worked with the Navy, port authorities and class societies and managed to have the world's first guideline for a unit classified as FPSO launched in 1992 at the Petrobras headquarters building."Since then, this type of platform has become the preferred way to produce offshore oil fields, especially where there is little oil flow infrastructure," says the engineer.With the experience acquired in Brazil, Mastrangelo participated in 2006 in the implementation of the first FPSO in the United States, installed by Petrobras America in the field of Cascade and Chinook, in the US portion of the Gulf of Mexico.
For Mastrangelo, the individual award is "recognition of the work of an entire generation, created by the company." The engineer retired in 2012, after 28 years of dedication to Petrobras, currently consulting for the oil and gas industry.
OTC Awards
This is the second time that an employee of Petrobras receives the Distinguished Achievement Award for Individuals. In 2007, engineer Marcos Assayag was awarded important innovations in the development of new technologies for the development of deepwater production.
In 2015, OTC Brazil awarded the engineer Antônio Capeleiro for his contribution to the technical development and management of oil fields in deep and ultra deep waters, such as the pre-salt deposits.In addition to the individual awards, Petrobras was already featured in the OTC in 2015, 2001 and 1992, with prizes for the development of pioneering technologies and overcoming barriers in the oil industry. The most recent recognition was received in 2015 by the set of ten pioneering technologies for pre-salt.
Font: T&B Petroleum/Petrobras Agency
Your E-mail:
Friend's Name:
Friend's E-mail:
Comment:
Send
Your Name: