Order T&B Petroleum
Only U$ 25.00
CLICK HERE TO ORDER
Check the latest edition
Apr | 2017 | N° 38

Login
Hello
Guest
! Welcome to our site.
Balance Sheet
Petrobras has net income of R$ 23.7 billion and is the highest value since 2011
11/06/2018 | 13h48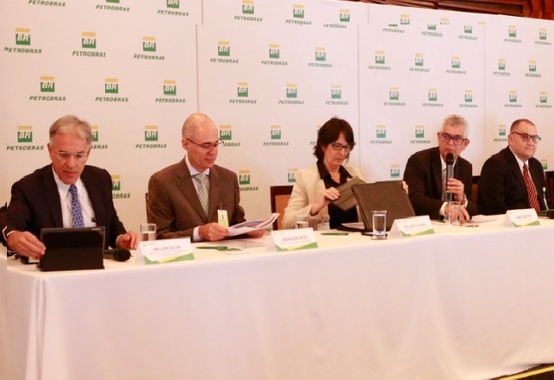 Andre Ribeiro/Petrobras Agency
Petrobras reported net income of R$ 23,677 million in 9M-2018, the best result since 2011 and a growth of 371% compared to the 9M-2017, determined by:
• Higher margins in the sales of oil products in Brazil and in exports, both driven by the increase in Brent and the depreciation of the Brazilian Real;
• Increase in diesel sales with expansion of market share;
• Lower general and administrative expenses, keeping the cost control discipline; and
• Reduction of interest expenses due to the decrease in indebtedness.
In September, agreements with DOJ and SEC were signed to close the investigation of the US authorities, totaling R$ 3.5 billion and reducing the risk for the company. Excluding these agreements, as well as the Class Action Agreement effects, the net profit would be R$ 10,269 million in the quarter and R$ 28,012 million in the accumulated of the year.
Adjusted EBITDA* was R$ 85,691 million, 35% higher than in 9M-2017, due to the increase in the sales margins of oil products in Brazil and exports. Adjusted EBITDA margin was 33%.
Free Cash Flow* remained positive for the fourteenth consecutive quarter, reaching R$ 37,481 million in 9M-2018, same level as in the previous year, due to the increase in operating cash generation, despite the payments related to the Class Action agreement, and higher investments.
Considering the accumulated profit, the reduction of uncertainties with the Class Action agreements and with the DOJ / SEC and the financial leverage target, a higher anticipation of Interest on Shareholder's Equity was approved, totaling R$ 0.10 per share, to preferred and common shares, adding to R$ 1,304.4 million. As a result, the anticipation totaled R$ 2,608.8 million.
Top Metrics
TRI: After a significant reduction since 2015, the TRI (total recordable injuries per million man-hours) remained at 1.06, same level as in the previous quarter. The company works for the continuous improvement of culture and safety conditions and adopts the alert limit of 1.0.
Financial Leverage: Gross debt reached US$ 88,115 million, while Net debt reached US$ 72,888 million, a reduction of 19% and 14%, respectively, compared to December 2017. The liability management led to the increase in the weighted average maturity to 9 years, with average interest rate of 6.2%. The Net Debt/LTM Adjusted EBITDA* ratio decreased to 2.96 in September 2018, compared to 3.67 in 2017. Leverage* decreased to 50% in this period. Excluding the Class Action agreement, the company would present the ratio of 2.66, on a converging path to the target of 2.5.
Other highlights
• Started production through the FPSOs Cidade Campos dos Goytacazes in the field of Tartaruga Verde, P-74 in the field of Búzios and P-69 in the field of Lula (October)
• Acquisition of the Block of Sudoeste de Tartaruga Verde, in the 5th bidding round of Production Sharing Agreement promoted by the ANP
• Celebration of partnerships with Equinor for business in the offshore wind energy segment in Brazil, with Total in the renewable energy segment, with CNPC in the Comperj project and Marlim cluster and with Murphy in the Gulf of Mexico
• The company maintained its position as a net exporter, with a balance of 272 thousand bpd in 9M-2018
• Received a total of R$ 1.6 billion related to the second phase of the diesel subsidy program
• Adopted the complementary hedge mechanism for gasoline, allowing for less frequent price readjustments
• The company received R$ 1.7 billion recovered by the "Car Wash" operation
• Signed an Integrity Pact to improve transparency and corruption prevention measures
• Adopted the new Employee Carrer and Compensation Plan, to improve mobility and meritocracy
• Resumed the operation of the Paulínia refinery (Replan) with 50% of its capacity, following an accident without victims.*
Font: Petrobras Agency
Your E-mail:
Friend's Name:
Friend's E-mail:
Comment:
Send
Your Name: