Order T&B Petroleum
Only U$ 25.00
CLICK HERE TO ORDER
Check the latest edition
Apr | 2017 | N° 38

Login
Hello
Guest
! Welcome to our site.
Tecnology
Petrobras in partnership with the Senai Institute of Innovation of Joinville, develops robot for painting platforms
07/22/2019 | 15h10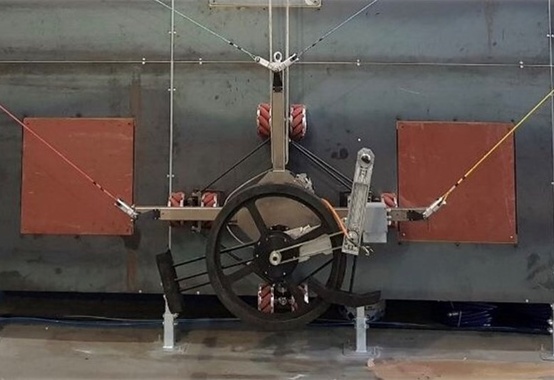 Petrobras Agency
Petrobras has developed, in partnership with the Senai Institute of Innovation of Joinville, a robot to paint large vertical flat surfaces, such as ship hulls and platforms. The system is a pioneer in the world in terms of concept and productivity, and is in the licensing phase to become a commercial product. Tests carried out by the company on the P-35 hull, located in the Campos Basin, allowed a reduction of human exposure to risk by 88% and reduction of maintenance costs by 84%.
The robot has the potential to perform the painting of a surface of 300 m² in an hour, while a person is able to paint 20 m² in the same period. During the pilot project, the use of the robot allowed Petrobras to reduce the service time from 35 days (with scaffolding) to 14 days (with robot) and the number of performers from 20 to 6 people, considering the actual time of shipment and mobilization of equipment.
"With the simplification of the operation, in addition to greater productivity, there are gains in safety, environment and health. The service performed by robot avoids work accidents, since the system is operated through a control panel, located on the deck of the unit. The robotic activity depends less on sea conditions, so in the future the potential for productivity gains may be even greater than what is observed in the test phase, "says consultant André Koebsch, one of the creators of the project.
The development of the technology generated three patents, whose applications were deposited by Petrobras at the National Institute of Industrial Property (INPI), in January of this year. As a result, the company hopes to transfer technology to suppliers and enable maximum application in platform maintenance.
Font: T&B Petroleum/Petrobras Agency
Your E-mail:
Friend's Name:
Friend's E-mail:
Comment:
Send
Your Name: