Order T&B Petroleum
Only U$ 25.00
CLICK HERE TO ORDER
Check the latest edition
Apr | 2017 | N° 38

Login
Hello
Guest
! Welcome to our site.
Certification
Petrobras is the first company to receive international certification of excellence in supply chain
09/24/2019 | 11h33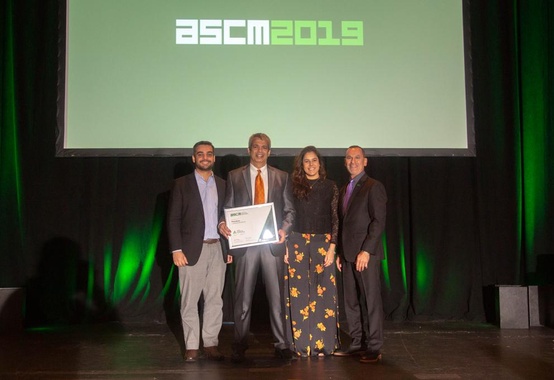 Courtesy of ASCM/From left to right :Thiago Baraldi, Cláudio Araújo ...
Petrobras is the first company to obtain the Association for Supply Chain Management (ASCM) certification for environmental, ethical and economic excellence in the procurement and supply chain of goods and services. ASCM, with more than 45,000 members in 100 countries, including Boeing and Ceva Logistics, is part of the American Production and Inventory Control Society (APICS), an internationally renowned certification and training organization for professionals of procurement and supply chain, with over 60 years of experience. The announcement was made on Tuesday (September, 17) at a ceremony in Las Vegas, United States.
"Good corporate governance and compliance practices are pillars of our business. We all have a responsibility to our audiences to adhere to the highest level of ethical, environmental and economic standards", affirms Cláudio Araújo, executive manager of Goods and Services Supply. "We worked hard to get certified and are proud to be the first company to achieve this important milestone. It is noteworthy that, to obtain this result, it was very important to have a strong supply chain, committed and aligned with the results of Petrobras."
ASCM's auditors reviewed more than 170 documents and evaluated Petrobras' procurement and logistics processes on the international best practices, considering over 148 criteria. They also visited Petrobras' supply logistics units, where they were able to verify, for example, automated warehouse management and control, with the use of digital solutions, besides the commitment to high standards in addressing environmental issues. The certification process involved more than 50 professionals from various areas of Petrobras: Supply and Goods and Services; E&P logistics; Governance; ICT; Shared; Compliance; Internal audit; Human Resources; Safety, Environment and Health; Strategy; Risks, Social Responsibility and Cenpes.
Font: Petrobras Agency
Your E-mail:
Friend's Name:
Friend's E-mail:
Comment:
Send
Your Name: