Order T&B Petroleum
Only U$ 25.00
CLICK HERE TO ORDER
Check the latest edition
Apr | 2017 | N° 38

Login
Hello
Guest
! Welcome to our site.
Cooperation Agreement
Porto Açu approaches China and closes cooperation agreement with Guangzhou Port
05/08/2019 | 17h09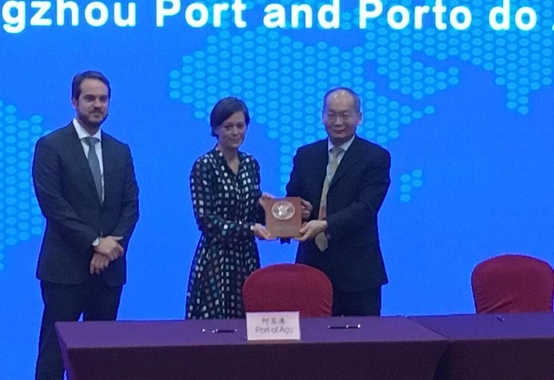 Divulgation Prumo Logística
Porto Açu Operations and the Chinese port of Guangzhou today signed a Cooperation Agreement that aims to share best practices and knowledge on port operation and management, as well as strengthening cooperation in investment and business development.The agreement enables the creation of a strategic relationship between ports, contributing to the exchange of innovative technologies and maturation of cargo flows between the two ports.
Strengthening the relationship with Asian countries is part of the company's strategy to connect Brazil to world-class ports that have the same characteristics as the Açu, such as state-of-the-art infrastructure and logistics efficiency.
"The partnership with the Port of Guangzhou, which is the 5th largest in the world, recognizes the potential and differentials of Açu. We are a port-industry in operation, with capacity to receive large vessels and retro-area available for the installation of industries.In addition, we have logistical efficiency to bring the main Brazilian production centers closer to the growing demands of China and other Asian countries, "said Porto Açu Commercial Director Tessa Major.
The signing of the agreement, which was attended by the Consul General of Brazil in Guangzhou, Pedro Murilo Ortega Terra, took place during the 31st World Ports Conference 2019. The conference is held annually by the IAPH (International Association of Ports and Harbors) and brings together representatives from port agencies around the world.This year the event is taking place at the Guangzhou Convention Center and is attended by more than 1,000 representatives from the port administration and companies from around the world.
Font: T&B Petroleum/Press Office
Your E-mail:
Friend's Name:
Friend's E-mail:
Comment:
Send
Your Name: