Order T&B Petroleum
Only U$ 25.00
CLICK HERE TO ORDER
Check the latest edition
Apr | 2017 | N° 38

Login
Hello
Guest
! Welcome to our site.
Forbes
Saudi Aramco leads the ranking of the largest oil
11/19/2013 | 11h37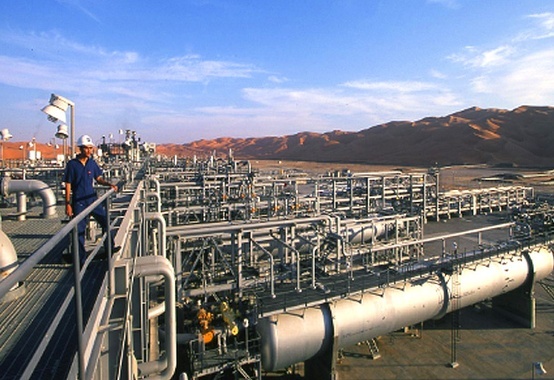 Saudi Aramco. Divulgation
The American publication 'Forbes', along with Wood Mackenzie, made a list with the 20 major oil companies in the world. According to them, in 2003, the average volume of oil produced by the companies was 3.4 million barrels per day. Currently, there are 4 million.
Who leads the ranking is Saudi Aramco, Saudi Arabia. The Brazilian Petrobras appears in 13th.
Only three companies included in this list ten years ago, it now appeared, which are: ConocoPhillips, Eni and Yukos. Check out the following, the 20 largest oil and gas and what has changed in ten years:
1 – Saudi Aramco
2003: 9.9 million barrels of oil and natural gas per day.
2013: 12.7 million barrels of oil and natural gas per day.
Variation: 28,28%
Country: Saudi Arabia

2- Gazprom
2003: 9.5 million barrels of oil and natural gas per day.
2013: 8.1 million barrels of oil and natural gas per day.
Variation: -7,36%
Country: Russia

3- National Iranian Oil Company
2003: 4.9 million barrels of oil and natural gas per day.
2013: 6.1 million barrels of oil and natural gas per day.
Variation: 24,48%
Country: Iran

4- ExxonMobil
2003: 4.6 million barrels of oil and natural gas per day.
2013: 5.3 million barrels of oil and natural gas per day.
Variation: 15.21%
Country: United States

5- Rosneft
2003: does not inform
2013: 4.6 million barrels of oil and natural gas per day.
Variation: --
Country: Russia

7- PetroChina
2003: 2.5 million barrels of oil and natural gas per day.
2013: 3.9 million barrels of oil and natural gas per day.
Variation: 56%
Country: China

9- Chevron
2003: 3.2 million barrels of oil and natural gas per day.
2013: 3.5 million barrels of oil and natural gas per day.
Variation: 9,37%
Country: United States

10- Kuwait Petroleum Company
2003: 2.3 million barrels of oil and natural gas per day.
2013: 3.4 million barrels of oil and natural gas per day.
Variation: 47,82%
Country: Kuwait

11- BP
2003: 3.9 million barrels of oil and natural gas per day.
2013: 3.1 million barrels of oil and natural gas per day.
Variation: -20,51%
Country: UK

12- Total
2003: 2.6 million barrels of oil and natural gas per day.
2013: 2.4 million barrels of oil and natural gas per day.
Variation: -7,69%
Country: France

13- Petrobras
2003: 1.5 million barrels of oil and natural gas per day.
2013: 2.5 million barrels of oil and natural gas per day.
Variation: 66,66%
Country: Brazil

14- Qatar Petroleum
2003: 1.4 million barrels of oil and natural gas per day.
2013: 2.4 million barrels of oil and natural gas per day.
Variation: 71,42%
Country: Qatar

15- ADNOC
2003: 1.82 million barrels of oil and natural gas per day.
2013: 2.4 million barrels of oil and natural gas per day.
Variation: 31.86%
Country: UAE

16- Lukoil
2003: 1.8 million barrels of oil and natural gas per day.
2013: 2.3 million barrels of oil and natural gas per day.
Variation: 27,77%
Country: Russia

17- Iraqi Oil Ministry
2003: 1.6 million barrels of oil and natural gas per day.
2013: 2.22 million barrels of oil and natural gas per day.
Variation: 37.5%
Country: Iraq

18- Sonatrach
2003: 2.36 million barrels of oil and natural gas per day.
2013: 2.19 million barrels of oil and natural gas per day.
Variation: -7.20%
Country: Algeria
19- PDVSA
2003: 1.6 million barrels of oil and natural gas per day.
2013: 2 million barrels of oil and natural gas per day.
Variation: 31.25%
Country: Venezuela
20- Statoil
2003: 1.6 million barrels of oil and natural gas per day.
2013: 2 million barrels of oil and natural gas per day.
Variation: 25%
Country: Norway
Font: Forbes
Your E-mail:
Friend's Name:
Friend's E-mail:
Comment:
Send
Your Name: