Order T&B Petroleum
Only U$ 25.00
CLICK HERE TO ORDER
Check the latest edition
Apr | 2017 | N° 38

Login
Hello
Guest
! Welcome to our site.
Economy
Singapore entrepreneurs want to establish partnerships with Rio's industries in the P & G market
05/07/2019 | 13h02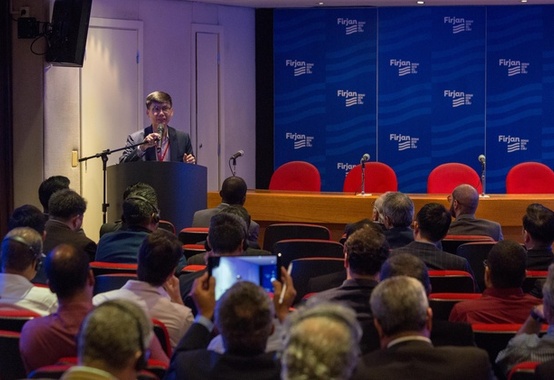 Divulgation Firjan/Photo: Vinicius Magalhães
Brazil and Singapore met at Firjan headquarters to form partnerships in the oil and gas (P & G) market, on May 2. In total, six companies and a research institute from the Asian country exchanged information and experiences with more than 40 companies from Rio de Janeiro in an event that included lectures and a round of business. The event was reviewed by Firjan with the National Petroleum Industry Organization (ONIP), Enterprise Singapore and the Brazilian Agency for the Promotion of Exports and Investments (Apex-Brasil).
"The aim is for those involved to find potential ways to collaborate and have a positive return for both countries," said Simon Lim, executive director of Enterprise Singapore, a business development advocacy agency. Singapore is one of the oil hubs in Asia, with expertise in floating production units (FPSOs) and other oil platforms.
Frederico Cezar de Araujo, International Director of Firjan, pointed out that Rio de Janeiro is the main state producer and holder of reserves in Brazil: "There is no better place to find business partners. In this sense, Firjan works on several fronts so that the direction of our industry is directed to improve our competitiveness and to have a global insertion ".
Potentials of Rio
Meg Montana, superintendent of Petroleum and Naval Industry of the Rio state government, detailed the opportunities in Rio de Janeiro, which should attract, by 2030, R $ 1 trillion in investments. According to her, currently, there are three major projects underway, totaling $ 4 billion.
"We have the works in the Açu Export Processing Zone (ZPE), in São João da Barra, which also plans to install a thermal; the Port Terminal of Macaé, known as Tepor, in the installation phase; the construction and operation of gas thermal in Marlim Azul, also in Macaé; and the construction in progress of the Rio de Janeiro Petrochemical Complex (Comperj), "said Meg. According to her, there are still investment opportunities in mature fields and in the naval and renewable energy industries.
Thiago Valejo, Firjan's P & G Strategic Content coordinator, detailed the work of the federation, which includes technical and industrial training by Firjan SENAI and Firjan SESI. According to him, the labor market is highly qualified in the state and has more than 40% of professionals with higher education.
"Most of the technical-level workforce passes through the SENAI schools. In addition, there is all applied research in the SENAI Institutes of Technology and Innovation, all accredited in the ANP with the capacity to develop projects using resources from the PD & I (research, development and innovation), "Valejo said.
Apex-Brasil has also made itself available to help the companies of Rio de Janeiro within their three main competences: to foment the export, to help in the internationalization and to attract investments to the country. "The most important thing we do at Apex is to promote connections. We have, for example, the Braziliam Petroleum Partnership, a program focused specifically on the P & G market, "said Tatiana Riera, an analyst at the agency.
Font: T&B Petroleum/Press Office Firjan
Your E-mail:
Friend's Name:
Friend's E-mail:
Comment:
Send
Your Name: