Order T&B Petroleum
Only U$ 25.00
CLICK HERE TO ORDER
Check the latest edition
Apr | 2017 | N° 38

Login
Hello
Guest
! Welcome to our site.
Foreign Affairs
Temer discusses Brazil-China cooperation with Chinese officials
06/29/2018 | 13h55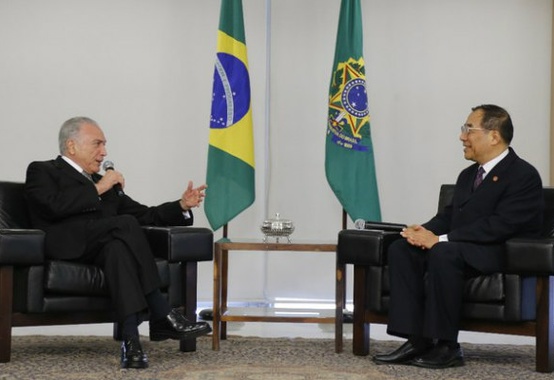 César Itiberê/PR/ BrazilGovNews
Expanding partnerships between Brazil and China is fundamental in deepening cooperation between the two countries, President Michel Temer said on Thursday (28 June) during a meeting with Yang Xiaodu, head of the delegation from the Chinese Communist Party, currently visiting the country.
"China is our largest trading partner. We have a very fertile political, economic and cultural relationship with them," Temer said. During the meeting, held at the Presidential Palace, the Chinese representative stressed that the countries share common ideas and goals, and thanked President Temer for his work in strengthening bilateral relations with China.
"Today, we have several successful partnerships, and in many of them we see your commitment. This is felt in the hearts of the Chinese," Xiaodu said, adding that "we are very happy that Brazil has been able to tackle economic difficulties, and are certain that it will improve every day".
National Chinese Immigration Day
Another topic addressed at the meeting was the promulgation of National Chinese Immigration Day in Brazil, sanctioned by President Michel Temer on Tuesday (26 June), which will be celebrated on 15 August. The date is a reference to the arrival of a large group of Chinese immigrants to Brazil in 1900, seeking better living conditions and job opportunities in the country.
"This demonstrates the Brazilian people's sense of openness and tolerance, of welcoming the international community with open arms," Xiaodu said
Font: BrazilGovNews
Your E-mail:
Friend's Name:
Friend's E-mail:
Comment:
Send
Your Name: