Order T&B Petroleum
Only U$ 25.00
CLICK HERE TO ORDER
Check the latest edition
Feb | 2021 | N° 40

Login
Hello
Guest
! Welcome to our site.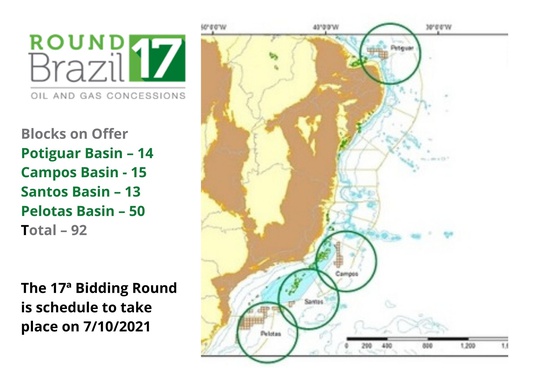 Divulgation
The ANP will hold tomorrow (7/10), starting at 9 am, the 17th Round of Bidding Blocks for exploration and production of oil and natural gas. 92 blocks will be offered, located in 11 sectors with high potential and new frontiers in four Brazilian maritime sedimentary basins: Campos, Pelotas, Potiguar and Santos.
Due to the Covid-19 pandemic, the event will be hybrid: the public session for the presentation of offers will be in person, with a reduced number of people, without the presence of the general public or press. There will be live broadcasting so that the public can follow the entire process over the internet. The transmission will take place through the ANP's YouTube channel.
The face-to-face part of the auction will be held in Rio de Janeiro, and will only be attended by the people necessary for its realization and representatives registered by the participating companies to present bids. The event will feature all safety precautions, such as social distancing and mandatory use of masks.
Nine companies are registered for the 17th Round: Petrobras; Chevron Brasil Óleo e Gás Ltda.; Shell Brasil Petróleo Ltda.; Total Energies EP Brasil Ltda.; Ecopetrol Óleo e Gás do Brasil Ltda.; Murphy Exploration & Production Company; Karoon Petróleo e Gás Ltda.; Wintershall Dea do Brasil Exploration and Production Ltda; and 3R Petroleum Oil and Gas S.A.
The 17th Round will offer the blocks in the concession model, in which the winning companies or consortia are defined by two criteria: signature bonus (80%) and the minimum exploratory program – PEM (20%) offered by the bidders.
Bonuses are the cash amounts offered by companies, from a minimum defined in the notice, and are paid by the winners before signing the contracts. For the 17th Round, the minimum signing bonuses vary from R$ 630 thousand, in the Pelotas Basin, to R$ 122.25 million, in the Santos Basin.
The PEM, measured in work units (UTs), defines a minimum of activities that the company proposes to carry out in the block during the first phase of the contract (exploration phase), such as seismic, well drilling, etc.
The ANP's bidding rounds are carried out following the guidelines of the National Energy Policy Council (CNPE) – which authorizes the auction and approves the areas to be offered, after studies by the ANP – and the competent environmental agencies.
+ Watch the public session broadcast at round time
+ See more information about Round 17
Font: T&B Petroleum/Press Office ANP
Your E-mail:
Friend's Name:
Friend's E-mail:
Comment:
Send
Your Name: