Order T&B Petroleum
Only U$ 25.00
CLICK HERE TO ORDER
Check the latest edition
Dec | 2020 | N° 39

Login
Hello
Guest
! Welcome to our site.
PPSA
With 22,000 barrels per day in August, oil under sharing falls 24% compared to July
10/19/2020 | 17h21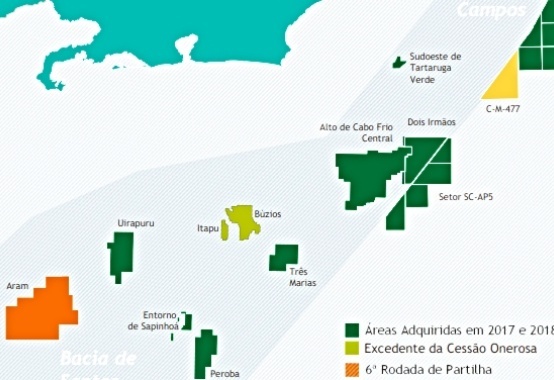 Divulgação PPSA
Sharing oil production was 22,000 barrels / day (bpd) in August, 24% less than in July. The drop is a reflection of the 27-day scheduled stoppage in production at the Mero Development Area for the execution of the 8-inch line disconnection operations. The downturn in Mero production has been occurring since April, as planned by the operator, when the switch from the 8 inch oil production line to the 6 inch service line began. Mero will operate a 6-inch line by the end of November this year, when a second 6-inch line is expected to be installed. The data are part of the Monthly Bulletin of Production Sharing Contracts, prepared by Pré-Sal Petróleo (PPSA) and released on Monday (19).
Of the 22 thousand bpd, 11 thousand bpd were produced by the Sudoeste de Tartaruga Verde Field, 8 thousand bpd by the Entorno de Sapinhoá Field and 3 thousand bpd by Mero. With the impact of the result of Mero on production in August, consequently, the average daily share of oil in the Union in the three contracts also decreased by 29% in that month in relation to July. The daily average of the total of the Union oil surplus in the three contracts was 4.9 thousand bpd, of which 4.5 thousand bpd in the Surroundings of Sapinhoá, 400 bpd in the Mero Development Area and 42 bpd in the Southwest of Tartaruga Verde.
Since January 2017, the beginning of the historical series, the accumulated production of the three contracts is 42.2 million barrels of oil. Of this total, the Union was entitled to 6.8 million barrels.
Natural gas
In August 2020, the total average daily production (consortium and Union) was 256 thousand m³ / day in the two contracts with commercial use of natural gas, 172 thousand m³ / day in the Surroundings of Sapinhoá and 84 thousand m³ / day in the Southwest Green Turtle. The result is down 2.66% compared to July this year.
The daily installment of the Union in August 2020 was 92 thousand m³ / day, referring to the Entorno de Sapinhoá (91,589 m³ / d) and Southwest Tartaruga Verde (320 m³ / d) contracts. The natural gas produced in Mero, with a high CO2 content, is being injected into the reservoir for an effective increase in oil production. So far, there is no forecast for its commercialization.
Since November 2018, the beginning of the historical series, the accumulated production in the two contracts totals 178 million cubic meters of natural gas. The surplus in natural gas accumulated in the period is 45.1 million cubic meters.
Font: T&B Petroleum/Press Office
Your E-mail:
Friend's Name:
Friend's E-mail:
Comment:
Send
Your Name: