Order T&B Petroleum
Only U$ 25.00
CLICK HERE TO ORDER
Check the latest edition
Apr | 2017 | N° 38

Login
Hello
Guest
! Welcome to our site.
Itaipu Binacional
With 2.7 billion MWh, Itaipu has produced energy since 1984 to illuminate the world for 43 days
02/12/2020 | 22h50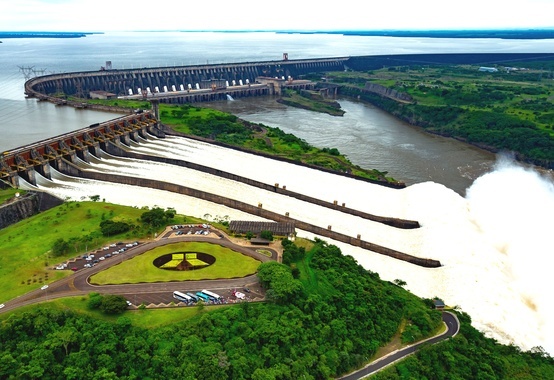 Divulgation
The hydroelectric plant will reach 2.7 billion MWh this Friday (14th). It is enough energy to supply Brazil's demand for five years and nine months; and Paraguay, for 190 years.
The Itaipu hydroelectric plant will reach 2.7 billion megawatt-hours (MWh) of accumulated energy since the beginning of the operation in May 1984. It is a historic mark for the binational enterprise , a world leader in clean and renewable energy generation, which reinforces the strategic importance of hydroelectricity for the sustainable development and energy security of Brazil and Paraguay.
In 2023, when the Treaty will be 50 years old and Annex C, which deals with financial bases, will be revised, Itaipu will probably have already driven 3 billion MWh of accumulated energy - an index that hardly any other plant in the world will be able to reach, not even those that started producing before the binational.
The Three Gorges plant (Três Gorges, China), for example, the largest in the world in terms of installed capacity, considering the average production of the last six years, would reach Itaipu only in 2347.
The more Itaipu produces, the better for the consumer, who pays less for the use of clean and renewable energy, and also for the government, which needs to resort less to thermal power plants.
Strategic
Today, Itaipu is responsible for serving almost 15% of the Brazilian electricity market, and 93% of Paraguay. The 2.7 billion MWh produced over 35 years and nine months of operation would be enough to supply the entire planet for 43 days.
Clean energy
For comparison purposes, the thermal equivalent of Itaipu generation is 15.3 million barrels of oil (beps) per day. As a reference, the average oil production, in the Pre-Salt, was 2.183 million barrels per day in 2019, according to sources from Agência Brasil.
If we take Brazil's total oil reserves as a reference, in the order of 12.7 billion barrels, it would be necessary to consume 44% of that oil to produce the 2.7 billion MWh of energy.
It is also worth remembering that hydropower is clean and renewable, that is, it does not emit pollutants. If the energy generated by Itaipu came from other sources, the emission of carbon dioxide equivalent (CO2eq) would be, in terms of gas plants, 1.09 billion tons; and, in oil plants; 1.90 billion tons. In coal-fired plants, the emission of carbon dioxide would be even greater: 2.57 billion tons.
Font: T&B Petroleum/Press Office
Your E-mail:
Friend's Name:
Friend's E-mail:
Comment:
Send
Your Name: